Cardinals keep it loose with camel costumes
Cardinals keep it loose with camel costumes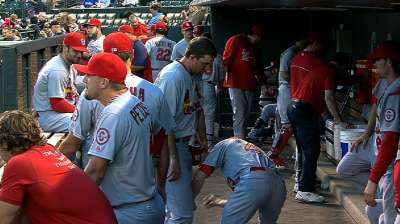 DENVER -- Every club often needs something to lighten the mood of a hyper-competitive division race.
So a group of Cardinals players stepped into camel suits and cruised around the field before Wednesday's game against the Rockies. It was a play on the Geico "Hump Day" commercial that's gone viral and became a hit in the Cardinals' clubhouse.
Reliever John Axford bought the costumes and led the charge, riding a bicycle to Coors Field in costume, and starter Joe Kelly joined in on the festivities. On Wednesdays, players also stop by the door of manager Mike Matheny's office and tease him with a "Mike, Mike, Mike, Mike" line from the commercial.
"They have fun," Matheny said. "If you can't come out here and have some fun, you can't figure out a way to smile once in a while, it's going to be a long season. It caught me off guard and I wasn't really expecting it. The first one rode in on a bicycle, so I wasn't expecting a camel on a bicycle. But it did cause some smiles in the clubhouse."
Kelly agreed with his manager and knows just how relieving it can be to step away from the grind of a 162-game season, even if it's just for a few brief moments.
"It's stuff we do every day, just sometimes the camera doesn't see it," Kelly said. "We're always loose, every single day, and that what's makes us a good team. We all bond together, laugh together, so it's just good to always have someone like that."
Ian McCue is an associate reporter for MLB.com. This story was not subject to the approval of Major League Baseball or its clubs.