Cardinals encouraged by Freese's play recently
Cardinals encouraged by Freese's play recently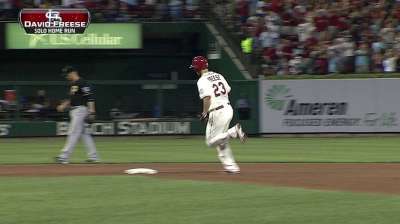 ST. LOUIS -- After hitting just one homer in 59 games (189 at-bats) from June 26 to Sept. 4, David Freese has gone deep twice in three days. And manager Mike Matheny isn't surprised his third baseman is turning it on this time of the year.
"He's a big-game player," Matheny said. "I think he's a winning player. I'm excited to see some of the things that I'm seeing from him right now."
Freese, best known for his walk-off homer in Game 6 of the 2011 World Series, is having his worst statistical season at the plate. He's batting a career-low .263 entering Sunday, and Matheny said Freese hadn't been moving as well at third base as he normally does, prompting a platoon situation with rookie Kolten Wong starting some games at second while Matt Carpenter slid over to third.
"I don't know what exactly he was dealing with there, just you could tell he was a click off, a step short," Matheny said, declining to label it as either a health or fatigue issue. "[He] tried to make good moves left, right, and it just didn't seem like his body was doing what he wanted to do."
Whatever it was that was hindering Freese's defensive mobility, Matheny believes it's in the past. Freese started his fourth consecutive game on Sunday. He's batting 3-for-8 with two homers, three RBIs and two walks in his past three games.
"I think we've been able to give him a little bit of time here lately, something that he didn't really want," Matheny said. "Maybe it's helping. I don't know. But right now, this looks like the David Freese that we've been used to watching around here."
If Freese keeps this up, he should resume his place as an everyday player, pushing Wong, rated the Cardinals' No. 3 prospect by MLB.com, to mostly a reserve role.
"This isn't about exposure [for Wong], taking a test drive here. This is about what's going to give us the best chance to win today," Matheny said. "David is going to be in there and a big part of our lineup. He's a production player, and especially when you put into the equation the fact that an Allen Craig is on the sideline right now, we need some guys to produce."
Chad Thornburg is an associate reporter for MLB.com. This story was not subject to the approval of Major League Baseball or its clubs.