Matheny relates to Kozma's struggles with bat
Matheny relates to Kozma's struggles with bat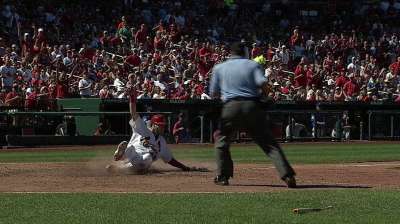 ST. LOUIS -- With a bunt single Friday night, Pete Kozma snapped an 0-for-33 skid that had him without a hit since Aug. 11, a struggle Cardinals skipper Mike Matheny is no stranger to himself.
"I've been there," said Matheny, a career .239 hitter. "It's tough to weather."
Matheny recalled starting a year in the Minors with an 0-for-32 stretch as he experimented with switch-hitting. A scout had seen him switch-hit in high school and suggested the right-handed hitter try it out just a few days before the season started.
Unfortunately for Matheny, the left-handed outs were few enough that they didn't offer an acceptable excuse for the extended slump.
"Not enough of them to really feel good about myself," Matheny deadpanned. "I was no longer a switch-hitter from then on."
Kozma started Saturday versus the Pirates, but has bounced in and out of the lineup as he shares duties at short with Daniel Descalso, making it difficult to find his rhythm at the plate. The Cardinals have often opted to keep Descalso's bat in the lineup over Kozma, who is known more for his defense than his offensive prowess.
"It's a challenge for everybody, but that's my role now. I gotta come off the bench and just do what I can," Kozma said. ""When you're not getting results it's always frustrating."
Since Aug. 23, the time share at shortstop has shifted in favor of Descalso, who has made 10 starts to Kozma's three. Despite the diminished role, Kozma insists he doesn't view the platoon at shortstop as a competition for playing time.
"We're on the same team, so it's definitely not a competition," Kozma said. "The competition is in the other locker room."
Chad Thornburg is an associate reporter for MLB.com. This story was not subject to the approval of Major League Baseball or its clubs.