Axford, Matheny ejected after hit by pitch
Axford, Matheny ejected after hit by pitch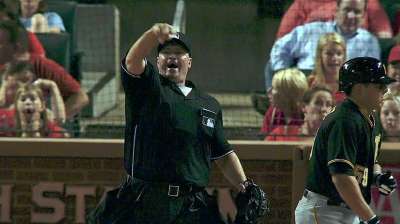 ST. LOUIS -- Both reliever John Axford and manager Mike Matheny were ejected from the Cardinals' 12-8 victory over the Pirates on Friday night.
Home-plate umpire Tony Randazzo removed the recently acquired right-hander and the St. Louis skipper from the game in the eighth when Axford plunked Pittsburgh's Tony Sanchez with a pitch. Both teams had already been issued warnings after Bryan Morris narrowly missed Yadier Molina with a head-level pitch in the seventh, which, per Major League rules, mandated Matheny's ejection, his sixth as a manager.
"I know that they're watching close and that was what he felt, so that's the decision he made," Matheny said.
With the Cards leading 12-1 entering the eighth, and the game seemingly all but over, Axford gave up a leadoff double before hitting Sanchez, handing the ball off to Jake Westbrook, who made his first appearance off the disabled list with a runner already in scoring position.
"I had a good opportunity to build off my outing last time in which things were going well and I was throwing well, then two hitters I'm out of the game," Axford said. "Obviously not my intention. I didn't want it to go that way. I wish I could have just built off my last outing a little bit better and obviously not put Jake Westbrook in that situation either. That's also pretty upsetting to me. I'd rather take care of that myself."
Chad Thornburg is an associate reporter for MLB.com. This story was not subject to the approval of Major League Baseball or its clubs.