Craig optimistic he'll return by end of season
Craig optimistic he'll return by end of season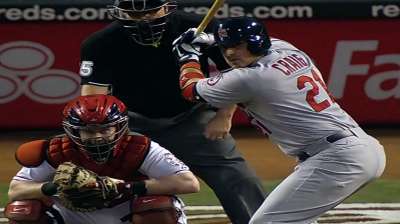 ST. LOUIS -- Although there remains no timetable for a return, Cardinals first baseman Allen Craig is optimistic he can recover from his sprained left foot in time to play again this season.
Craig, who injured his foot rounding first on Wednesday against the Reds, was evaluated in Cincinnati before flying back to St. Louis on Thursday for X-rays and an MRI, which revealed no structural damage. He is wearing a walking boot and will be re-evaluated by foot and ankle specialist Dr. John Nadaud from Mercy Hospital and the Cardinals' medical staff early next week.
"It's going to be sore for a little bit, but all things considered, I think I'm OK," Craig said. "I think there's a good chance I'll be back at some point this season, but we're going to take it one day at a time. I've never been through this particular injury, so I'm going to work my hardest every day to get it right and do whatever the trainers say."
Craig is currently treating his foot with rest and ice to reduce swelling. He will start doing more once the swelling subsides. He said the fact that X-rays and an MRI revealed no structural damage in his foot was a "huge relief."
"Originally, I was pretty scared because my foot has never bent that way," Craig said. "I'm not too worried about playing through pain. I think everybody has done that before. I just got to get it to a point where it feels good and I don't risk further injury."
General manager John Mozeliak said the club's medical staff is more optimistic about Craig's injury than it was Wednesday and Thursday, although it's still too early to speculate when he might return.
"We're lucky in the sense that there's no fracture," Mozeliak said. "Based on what we saw [Wednesday] night, we certainly thought it was going to be worse. But he's still in a boot. I think it's going to be one of those things where each day we may learn little bit more, see how he progresses, see how he feels. I think, in the short term, he's not going to be available any time soon."
Chad Thornburg is an associate reporter for MLB.com. This story was not subject to the approval of Major League Baseball or its clubs.