Matheny wants clarification on lack of interference call
Matheny wants clarification on lack of interference call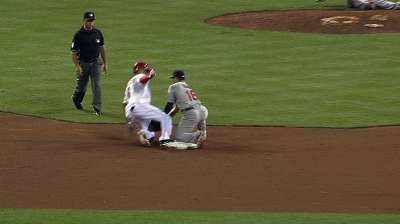 CINCINNATI -- Manager Mike Matheny still was wondering on Thursday about Billy Hamilton's stolen base in the 14th inning of Wednesday's game.
The Cincinnati rookie was on first base as a pinch-runner with nobody out, Zack Cozart batting and St. Louis leading, 4-3. Hamilton took off for second as Cozart swung and missed with a lunge that left him bent at the waist. Catcher Yadier Molina just missed throwing out Hamilton; both he and Matheny argued with plate umpire Tim Timmons that Cozart interfered with Molina.
"To me it was impeding the throw," Matheny, a former catcher, said after the game, adding that he planned to talk with umpires for clarification.
Matheny didn't have a chance to do that before Thursday's game, but it still was in his plans.
"I need to hear their definition so I can properly argue," he said. "I still have a hard time believing that leaning across the plate doesn't impede the throw. They said it was the timing -- that the ball was already gone -- but you don't see Yadi make a throw like that and come up short. He couldn't stride."
Mark Schmetzer is a contributor to MLB.com. This story was not subject to the approval of Major League Baseball or its clubs.