Carpenter ties Hornsby's doubles record
Carpenter ties Hornsby's doubles record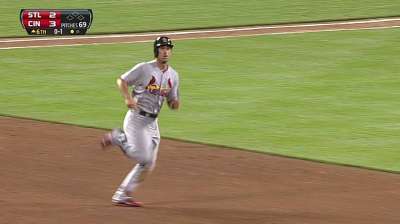 CINCINNATI -- Matt Carpenter's sixth-inning double on Wednesday night against the Reds in Cincinnati was his 46th of the season, moving him into a four-way tie for the most doubles in franchise history by a player who primarily plays second base.
Carpenter tied the record set by Hall of Famer Rogers Hornsby in 1922, which was matched by Hall of Famer Frankie Frisch in '30 and Sparky Adams in '31.
Carpenter's double was his third hit of the game and his sixth in the series.
Mark Schmetzer is a contributor to MLB.com. This story was not subject to the approval of Major League Baseball or its clubs.