Matheny considers Axford's struggles in Cincinnati
Matheny considers Axford's struggles in Cincinnati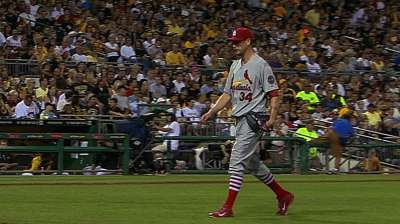 CINCINNATI -- John Axford's career statistics at Great American Ball Park might make some managers think twice about bringing him into a game.
St. Louis's Mike Matheny admits that he's one of them, but Axford's previous performance wouldn't be the sole or even overriding factor in deciding whether to use the right-handed relief pitcher.
After allowing a hit and walk in two-thirds of an inning in Monday's 7-2 loss to the Reds, Axford was 0-4 with a 9.58 ERA in 13 games -- all in relief -- against the Reds in Cincinnati entering Wednesday's game. He's allowed 18 hits, including five home runs, and 11 runs in 10 1/3 innings.
"If there's a specific team a guy struggles against, yeah, you'd keep an eye on that," Matheny said. "Generally, how a guy's feeling and what our needs are would override history."
St. Louis acquired Axford from Milwaukee on Aug. 30 for a player to be named later.
Mark Schmetzer is a contributor to MLB.com. This story was not subject to the approval of Major League Baseball or its clubs.