Yadier exits game early with left wrist soreness
Yadier exits game early with left wrist soreness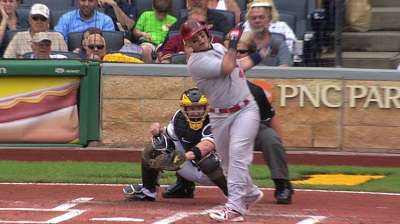 CINCINNATI -- Cardinals catcher Yadier Molina left Monday's 7-2 loss against the Reds at Great American Ball Park after four innings with soreness in his left wrist. He was listed as day to day.
"He's had it before," manager Mike Matheny said after the game. "You haven't heard much about it. It popped up again today."
What was the reason for the soreness?
"The pounding of catching," Matheny said.
Molina had left the clubhouse before the media arrived after the game.
Going into Monday's game, the veteran, who spent a little more than two weeks on the disabled list in early August with a sprained right knee, had missed 24 games, matching his total from last season. But going into his start against the Reds on Monday in Cincinnati, Molina still led National League catchers with 928 innings behind the plate.
Molina went into Monday's game ranked second in the league with a .329 batting average and 37 doubles. The Cardinals were 10-4 in games he'd played since coming off the disabled list on Aug. 15. Molina was playing in his fourth straight game on Monday since getting back-to-back days off.
Mark Schmetzer is a contributor to MLB.com. This story was not subject to the approval of Major League Baseball or its clubs.