Molina playing nearly every day in return from DL
Molina playing nearly every day in return from DL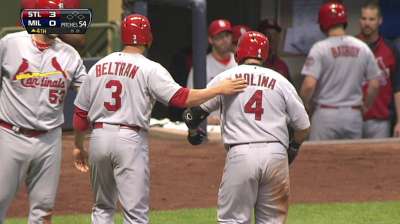 MILWAUKEE -- When Yadier Molina returned last Thursday after a stint on the disabled list with a right knee sprain, there was expected to be a scheduled plan of rest for the All-Star catcher.
But Molina's name was written into manager Mike Matheny's lineup for the fifth consecutive day on Wednesday against the Brewers, and for the sixth time in seven days since his return.
"He's going to get a day off when he needs a day off," Matheny said. "We've had a lot of conversation when we had younger players. We do a lot of the decision making for them. He's a grown man, these guys know what they need, they know where they are. We're all going in the same direction, trying to go to the same common goal. They don't want to be injured, we don't want them injured, but the guys that have been doing this for a long time, they're going to be the best source of information that we have."
Before Molina's first game back, Cardinals general manager John Mozeliak said the team needed to be cautious with its catcher.
"We just have to be smart," Mozeliak said at the time. "Obviously, I think you just look at how things go [in Molina's first game back], and that might dictate how things look the next day. But prioritize rest certainly in the first seven days back. We have to be cognizant of that and think through it. … Clearly, we need to make sure there are breaks in his workload."
But Matheny said a constant flow of communication between the Cardinals' medical staff, Molina and himself is what has allowed them to feel comfortable putting Molina on the field.
"We're getting clearance from our medical people that he's responding very well, and he's telling us that he feels good," Matheny said. "And that's what we're going to have to go with, and we're going to trust that.
"You've got to trust guys, and, once again, they're capable of helping make that decision. We as a staff need to step in and see what we see, we have very talented medical people that give us medical backing, that give us medical suggestions. We take all that information in, but the player also has a say in what goes on."
Molina has been scorching hot since returning to the Cardinals' lineup for their six-game road trip through Chicago and Milwaukee, which ends on Wednesday at Miller Park. Molina entered Wednesday 10-for-18 with five doubles and two home runs on the trip, and he racked up six hits in the first two games against the Brewers on Monday and Tuesday.
The Cardinals, who went 6-8 in Molina's absence, entered Wednesday 4-1 in the catcher's starts since his return.
Milwaukee finally cooled Molina down, as he went 0-for-4, but the Cardinals won their third straight series with an 8-6 victory in the rubber game.
"I feel good," Molina said. "We've been winning and that's important."
Molina entered Wednesday leading the National League in batting average (.336), and was second in doubles (35) behind teammate Matt Carpenter and second in all of baseball in innings caught (851) despite his time on the DL.
"It might not look how everybody else wants it to look, but that's not our concern. Even a little bit," Matheny said. "It's got to be what's best for our player, what's best for our team.
"We've been trying to conserve this time for hopefully an extra month. So it's going to be more feel now than it's going to be anything else. [Early in the season] we gave Carlos [Beltran] more rest than he's ever had, because we saw last year and it looks like he got tired at the end. So let's conserve so we have a strong August, strong September, and he played along well. He bought into that plan. We're in a fight, we're in a push, and he's just going to let us know if something physically isn't going to allow him to be out there. It's not saving now. This is the time to put it all together."
Kevin Massoth is an associate reporter for MLB.com. This story was not subject to the approval of Major League Baseball or its clubs.