Cardinals quiet as Trade Deadline passes
Cardinals quiet as Trade Deadline passes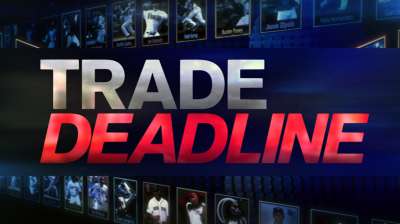 PITTSBURGH -- After weeks of considering upgrades to the rotation, bullpen and shortstop position, general manager John Mozeliak spent the last hours before the non-waiver Trade Deadline with his attention turned to the catching market.
The sudden shift in focus was dictated by Yadier Molina's exit from Tuesday's game with a sprained right knee. Initially uncertain about the severity of the injury, Mozeliak returned to his hotel room after the doubleheader sweep and began making calls. He reached out to a few clubs he believed might be willing to shop a catcher, and other teams reached out to him.
It made for a busier day than Mozeliak had anticipated, though the 4 p.m. ET deadline came and went without any Cardinals activity. Other than dealing demoted reliever Marc Rzepczynski to the Indians for a low-level Minor Leaguer on Tuesday, the Cardinals -- like their two main National League Central competitors -- were completely quiet.
"If you had asked me six days ago, I would have felt our team was playing really good baseball and that we have a good team," said Mozeliak, referencing the team's 0-6 skid. "I still feel that way. What we don't want to do is make a decision in a six-game vacuum. And in the end, I think we're going to be a better team and play to what we're capable of doing. When you look at how we could improve our club, we just didn't have a lot of access to those pieces that might have made a difference."
That includes the catching options. The Cardinals checked in on the Cubs' Dioner Navarro but ultimately hedged at meeting the asking price. Mozeliak also had a conversation with the agent for Kelly Shoppach, who opted out of his Minor League deal with the Nationals on Wednesday.
At around 1 p.m., Mozeliak learned the results of Molina's MRI, and the report of no structural damage lessened the Cardinals' need to act.
"When I got the news on Yadi, [it was] relatively positive, in the grand scheme of things," he said. "I still looked to see if there was some possible protection out there, but I wasn't overly aggressive on it. I'm not going to make an irrational decision on a knee jerk. I'm glad we didn't."
Though the Deadline has passed, the Cardinals can still find catching help -- or address another area -- in August. Players can be traded over the next month, though they have to first clear waivers. Teams can also make claims on the waiver wire in reverse order of the standings. A free agent such as Shoppach can sign anywhere since he is no longer under contract.
Seeing no glaring holes on a club with the NL's second-best record, Mozeliak approached the Trade Deadline differently than he did in each of the past two seasons. He surveyed the market for players the team could buy low on and also considered bigger deals that would have cost the organization coveted prospects.
A limited number of selling teams and little letdown in those teams' requests led Mozeliak to keep the Major League roster as is.
"Lots of things are talked about, discussed," he said. "But I never felt like we had any traction of anything significant. As you can see, as we sit here today, clearly it wasn't a robust Trade Deadline. The fact is that not a ton of players were offered."
Cardinals top prospects Oscar Taveras, Michael Wacha and Carlos Martinez were, as expected, among those targeted by other clubs.
"I feel like it is a vote of confidence for the talent we have in there, because we didn't feel like we were scrambling to add to it," Mozeliak said. "The last couple years, I think everybody would agree, we needed to do something. Trying to allow masses to dictate what's right or wrong can be dangerous. For us, the 25 guys in that room right now, they have to know we believe in them.
"We feel like we have a very good team. When you look at the opportunities that might have been out there to help us improve, everything comes with a price. We didn't feel the price was right."
Jenifer Langosch is a reporter for MLB.com. Read her blog, By Gosh, It's Langosch, and follow her on Twitter @LangoschMLB. This story was not subject to the approval of Major League Baseball or its clubs.