Yadier returns to lineup, excited for All-Star Game
Yadier returns to lineup, excited for All-Star Game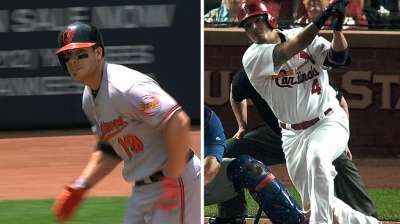 CHICAGO -- After getting a day off from starting behind the plate, his third in the last week,Yadier Molina was back in the Cardinals lineup on Sunday night at Wrigley Field.
The All-Star catcher made his presence immediately felt, lacing an RBI single in the first inning.
Molina has been dealing with an issue with his right knee, which was surgically repaired in 2007, but he said it's improving by the day. Molina added he's looking forward to the All-Star Game festivities in New York to start the week.
"You get to know a lot of people," said Molina, who plans to start behind the plate for the National League after being the NL's top vote-getter. "You spend time with other players and try to find out what they do and try to socialize with them and just be with them. At the All-Star Game, you've got a bunch of talent around and you can get information from [them] to help yourself get better."
It will also be another special memory for Molina, who's racked up quite a few in his 10-year career. He's already backstopped the Cardinals to a pair of World Series championships, and this will be Molina's fifth All-Star appearance.
"You know, every time you make an All-Star team or every time you win the World Series or whatever it is, it's a good moment for me and a good moment for my family," he said. "Any time you get those awards ... whenever you're finished playing, that's a memory you can have for the rest of your life."
Cardinals manager Mike Matheny is monitoring Molina's knee situation, but sounded more happy for his star catcher than concerned.
"It's got to be exciting for him," Matheny said. "Being the leading vote-getter, you know he wants to do that for our fans and all the fans who voted for him. It's a big deal."
Brian Hedger is a contributor to MLB.com. This story was not subject to the approval of Major League Baseball or its clubs.