Matheny hoping extra rest benefits Holliday
Matheny hoping extra rest benefits Holliday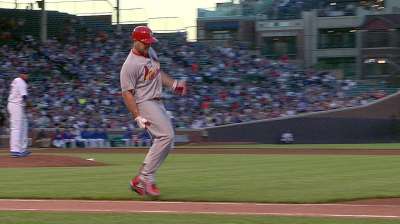 CHICAGO -- Matt Holliday continued to show progress Sunday recovering from a right hamstring injury sustained while running out a ground ball on Thursday night at Wrigley Field.
Holliday stayed with the team this weekend and has been receiving treatment since leaving that game in the fourth inning. The goal is to use the past three days off combined with four more during the All-Star break to get him healthy enough to return on Friday in St. Louis against the Padres.
Holliday is day to day right now, but he hasn't taken batting practice and was not an emergency pinch-hitting option in the late innings of the Cards' 6-4 loss to the Cubs on Saturday night.
"We need to be real careful, so we can continue to progress and make sure we're aiming for that first day after the break," manager Mike Matheny said.
Matheny said that target date is realistic based upon reports he's getting from the team's athletic training staff.
"Every day, he's measured out in everything we've done to test it," Matheny said. "He's getting stronger and is feeling better and we've got to use those days [during the break] to our advantage."
Matheny made a slight lineup tweak for Sunday night's game related to Holliday's absence. Star right fielder Carlos Beltran, who'd been shifted into Holliday's third spot in the batting order, was slotted back into his more familiar spot, hitting second.
Allen Craig, one of the National League's top run producers, batted third. Craig came into the game hitting .312 with 20 home runs and 62 RBIs in 331 career at-bats against left-handed pitchers. Southpaw Travis Wood was on the hill for Chicago.
"It kind of gives us an opportunity to put somebody else in there [hitting third]," Matheny said. "David historically has been a guy that really does well against lefties. We're looking forward to seeing how it plays out."
Brian Hedger is a contributor to MLB.com. This story was not subject to the approval of Major League Baseball or its clubs.