Cards give Kozma time off to work on swing
Cards give Kozma time off to work on swing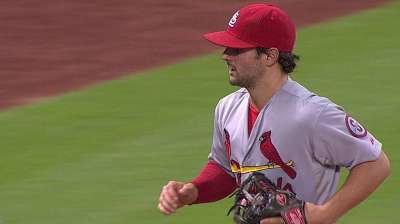 ANAHEIM -- Thursday marked the first of what the Cardinals plan to be several days off for shortstop Pete Kozma, who will use the time away to search for his swing and his confidence. Daniel Descalso will start in Kozma's place.
Manager Mike Matheny discussed his intentions with Kozma after his second straight 0-for-5 game on Wednesday. During that meeting, Matheny specifically lauded Kozma for his defensive steadiness and let him know that the organization still views him as the starting shortstop.
How many days Kozma will sit out will depend upon how much progress he makes during his side work.
"You go through periods where you're just trying to figure things out," Matheny said. "[He's] going through [his] sophomore year where teams have more information on you. Then you go through not having as much confidence as you should. All of that combines to overthinking at times. That puts us in a situation to go get some work with [hitting coach] John [Mabry] and with [assistant hitting coach] Bengie [Molina] and get a little bit of rest. But more importantly, get a little bit of time to really work on his swing, where he doesn't have to try to take the things that he's working on and put them in game time speed."
Kozma's hitless streak extended to 17 at-bats with his game on Wednesday, and he has just five hits since June 18.
While Kozma's offensive production has dipped, the Cardinals remain content in what he has offered on the defensive side. Kozma's ultimate zone rating of 6.3 is third best among all National League shortstops. He's committed only four errors, which, while unable to provide a good indication of range, does substantiate the Cardinals' claim that Kozma has been making the routine plays without much issue.
"He's been so consistent out there, especially for a young player," Matheny said. "And that's the message that we had last night -- that I'm very proud and happy with how he's going about his job at shortstop and that's his No. 1 responsibility. After that, we want him to feel comfortable and confident."
Though Descalso is in line to start a few games in a row, Matheny was clear that there is not an emerging competition at the position. The Cardinals continue to see value in having Descalso available to spell various infielders. Matheny said the organization also does not want to make any hasty decisions about Kozma, who has earned himself the opportunity to play out of this funk because of past contributions.
"We really want Pete to understand that this is a move that can get him right and get him back to the player we know he can be," Matheny said. "Just because the bat's not screaming hot right now, we put too much value in all those other things to say that we're just going to put you on the shelf here or start to take away your at-bats. Right now, we have a lot of faith in him."
Seemingly not in the mix to be considered as a fill-in option right now is Ryan Jackson, despite Jackson's strong season at Triple-A. Jackson entered the day hitting .306 with a .384 on-base percentage for Memphis.
"Unless something happens, right now we're happy with what we have going on right here," Matheny said. "I don't ever want Pete to think anything besides what I told him. It's not time for us to start thinking about other stuff like that until we're forced to do so."
Jenifer Langosch is a reporter for MLB.com. Read her blog, By Gosh, It's Langosch, and follow her on Twitter @LangoschMLB. This story was not subject to the approval of Major League Baseball or its clubs.