Kozma has to play through slump
Kozma has to play through slump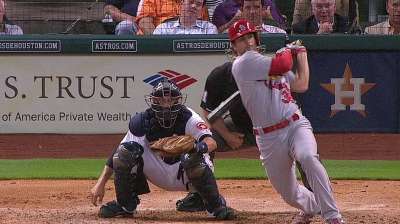 ANAHEIM -- Cardinals shortstop Pete Kozma's offensive production has been waning of late, and while manager Mike Matheny said he would like to find some days off to help Kozma reset, he has not had much of an opportunity to do so, due to a variety of factors.
This eight-game swing through three American League parks has the Cardinals using an extra hitter. The Cardinals played one position player short on Sunday, with Matt Adams down with food poisoning. They've since been without Matt Holliday, who has been nursing neck soreness.
As a result, Kozma continues to play while he continues to search.
"I don't know if he's searching for anything mechanical. I think he's searching for his feel," Matheny said. "He had a really great feel in Spring Training and all the way back into last fall. It's a tough game, and they do start to mess with you a little bit if they feel you have a weakness and wait for you to adjust. Part of that is in the equation. But more importantly, it's his confidence. He just needs to have some success out there and trust what he's working on."
Kozma entered Wednesday hitless in his last 12 at-bats and just 2-for-17 on this road trip. He's hit .132 over his last 11 games, striking out 12 times and walking just once during that stretch.
Asked about his recent downturn in production, Kozma cited bad luck as being behind some of his troubles.
"I feel pretty good. I'm just hitting the ball right at them," Kozma said. "I'm just trying to get them to drop."
As Kozma has struggled to find some offensive momentum, so has another one of the organization's shortstop options. Ryan Jackson, the everyday shortstop for Triple-A Memphis, is seen as a potential replacement should the Cardinals opt to make a change. But while Jackson is hitting .305 on the season in Triple-A, he entered the day with just four hits in his last 31 at-bats.
Jenifer Langosch is a reporter for MLB.com. Read her blog, By Gosh, It's Langosch, and follow her on Twitter @LangoschMLB. This story was not subject to the approval of Major League Baseball or its clubs.