Kelly to remain in relief role until July 6 start
Kelly to remain in relief role until July 6 start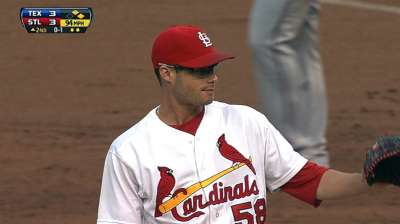 HOUSTON -- The Cardinals will stick with four starting pitchers until July 6, when long reliever Joe Kelly is expected to start, St. Louis manager Mike Matheny said Tuesday.
With three off-days between June 24 and July 8 and Tyler Lyons optioned to Triple-A, there's enough wiggle room to provide normal rest for the club's starters.
"We're going to skip Joe Kelly in the rotation this first time through," Matheny said. "Everybody will still get one day's extra rest, so it's going to be normal for them. They won't know the difference."
Kelly has been stretching and working out in the bullpen like he'll be starting and said he's been using his long relief outings to make his case for the No. 5 spot in the rotation.
"Being the long guy out of the 'pen, my arm's ready to go for all situations," Kelly said. "When the off-days are over, I'll be ready then, too. It's ultimately the skipper and GM's decision, but it's exciting to have at least the opportunity."
Kelly started 16 games last season, going 4-6 with a 3.74 ERA over 91 1/3 innings. He's only started one game this year, tossing 5 2/3 innings with one earned run in a loss against Arizona on June 5.
Chris Abshire is an associate reporter for MLB.com. This story was not subject to the approval of Major League Baseball or its clubs.