Choate enjoys reunion with former teammates
Choate enjoys reunion with former teammates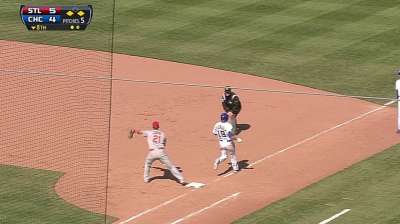 MIAMI -- Every mound sits 60 feet away from home plate, but Cardinals reliever Randy Choate spent some time throwing from a familiar rubber this weekend.
Choate returned to Marlins Park to face his old team and spent some time catching up with old friends. The veteran left-hander was a member of the Marlins in 2011 and parts of '12 before being traded to the Dodgers.
"There are a lot of guys over there that I was real close to, especially the guys in the 'pen like [Mike] Dunn, [Ryan] Webb and [Steve] Cishek," Choate said. "It's always nice to come back where you had a good relationship with people."
Choate returned to Marlins Park for the second time since he left and he was joined by another ex-Marlin in Cardinals closer Edward Mujica. Choate, who signed with St. Louis in the offseason, said Mujica factored into his decision to sign with the club.
Choate knows when it is time to go to work, too, tossing a scoreless inning on Saturday. The well-traveled reliever, who has played for six different big league clubs, lowered his ERA to 2.63 and picked up his eighth hold of the season.
"My job doesn't really change, and I like to think that I am a pretty consistent guy," Choate said. "I try to fit in as best I can. There are a bunch of guys in here that make it easy to feel welcome."
After spending the early part of his career dealing with inconsistency, Choate has been a reliable reliever for much of the past five seasons. The 37-year-old credits his time with the Rays for getting more comfortable in the game.
"I always go back to my days with the Rays and [manager] Joe [Maddon] and [general manager] Andrew [Friedman] put me in a position to be successful at this level," Choate said. "I learned how to be successful there, and I think that really made the difference. No matter what team you go to, when you know that the managers have confidence in you and you know you've done it before, you get that confidence.
"Then it gets easier to go from place to place. Earlier in my career, I didn't feel as comfortable in the big leagues, but they helped me with that, and now I've been able to sustain it through different organizations."
David Villavicencio is a contributor to MLB.com. This story was not subject to the approval of Major League Baseball or its clubs.