Cards sign five picks, two undrafted free agents
Cards sign five picks, two undrafted free agents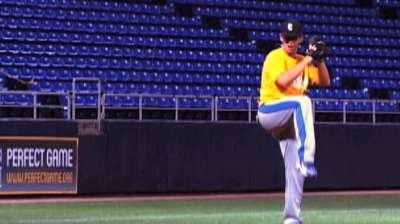 MIAMI -- The Cardinals added seven players to their organization Friday, signing five players from their 2013 June First-Year Player Draft and a pair of undrafted free agents.
St. Louis came to terms with pitcher Michael Mayers (3rd round, University of Mississippi), outfielder James Bosco (13th round, Menlo College), pitcher Michael Brookshire (20th round, Belmont University), catcher Alex DeLeon (23rd round, University of Kansas) and pitcher Kyle Webb (32nd round, Elon University).
"We are thrilled to get all of these players signed and into a Cardinals uniform," Cardinals scouting director Dan Kantrovitz said. "Mayers indicated to us that he wanted to get started quickly and was eager to get going. He will report to the Gulf Coast League, where we can monitor his innings and allow our player development staff to begin working with him. Bosco has a chance to be an electric player, and we are excited that he is going to begin his career for the State College Spikes."
The Cardinals also announced the signings of Kyle Grana, a senior right-handed pitcher out of Bellarmine University, and Brian Vigo-Suarez, a senior outfielder from the University of Science and Arts of Oklahoma.
"The non-drafted free agents are essential for rounding out our Minor League rosters, as well as providing another avenue to add players who we believe have a chance to reach the Major Leagues," Kantrovitz said. "In most cases, the non-drafted free agents are players we would have drafted had there been more than 40 rounds. Although these players do not generally get a lot of publicity, we use a very similar decision-making process with them as we do with drafted players. Often times, we have multiple amateur scouting reports on each of them."
The seven newly signed Cardinals join six other Draft picks who signed with the organization this week. St. Louis already came to terms with its top three picks, Marco Gonzales (No. 19), fellow lefty Rob Kaminsky (No. 28) and shortstop Oscar Mercado (No. 57).
MLB.com reported Thursday that three later-round picks, shortstop Malik Collymore (10th round), righty Steven Farinaro (11th round) and outfielder Ricardo Bautista (12th round) are nearing agreements that would earn them bonuses of more than $100,000. The Cardinals have a total Draft pool of $6.9079 million this year.
David Villavicencio is a contributor to MLB.com. This story was not subject to the approval of Major League Baseball or its clubs.