Matheny again raises concerns on collisions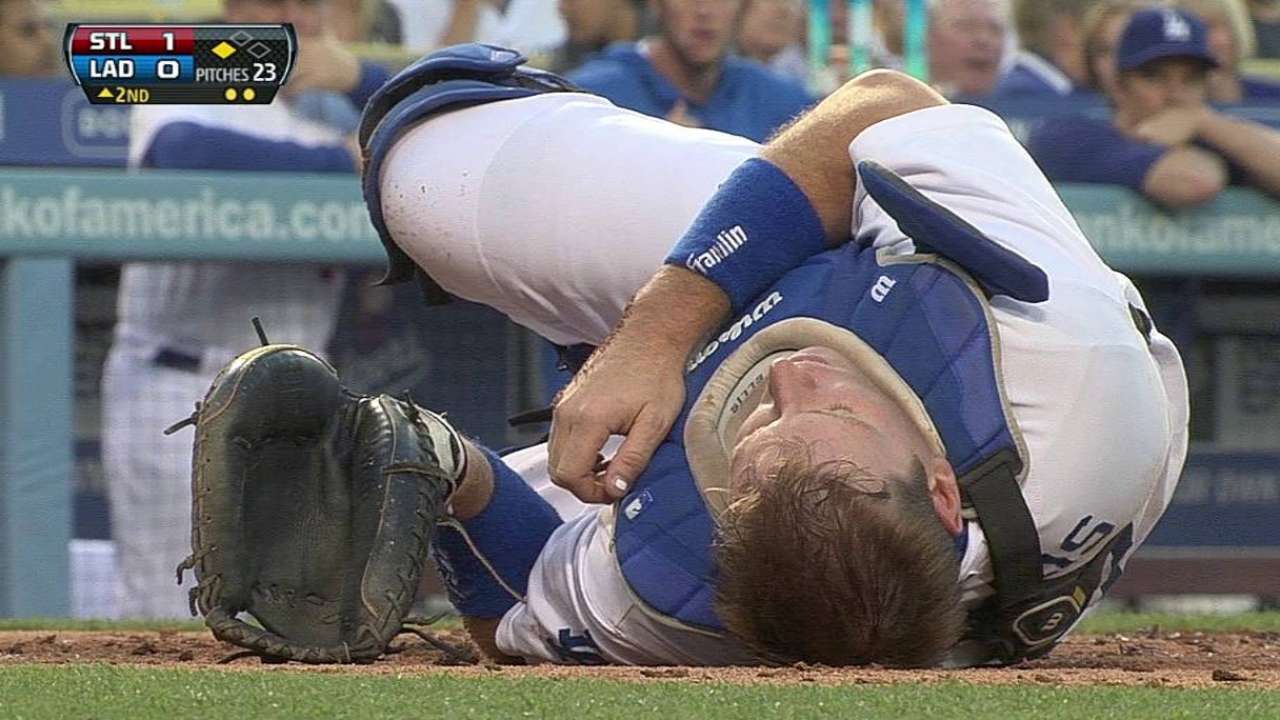 LOS ANGELES -- Neither Cardinals manager Mike Matheny, nor Dodgers manager Don Mattingly, saw any ill intent with the contact Jon Jay made with Dodgers catcher A.J. Ellis while scoring in the second inning on Friday. However, Matheny once again raised the issue of home-plate collisions and reiterated his belief that they should not have a place in baseball.
Matheny has been outspoken in challenging baseball's decision-makers to eliminate home-plate contact, preferring that a play at home be handled like it is at any of the other three bases. Matheny's stance on the issue has evolved since his days as a catcher and as an individual who spent months recovering from the effects of multiple concussions.
"I believe we would draw just as many people in this game without having collisions at home plate," Matheny said on Saturday. "The only way that's possible in my mind is that it's a tag play like any other base. I loved that play when I played and even the first couple of years when it was over, I would probably be still the staunchest advocate for it. But as I saw how long my injury lasted and as I became the default spokesperson for the injury, the more educated I became. I realized just how long-term some of this can be."
Matheny has had some short discussions with Joe Torre, Major League Baseball's executive vice president for baseball operations, on the topic already. Torre, also a former catcher, has previously said that he did not see the need to adjust the rule.
Asked if he has gotten some indication that people are beginning to come around to the possibility of making a change, Matheny said he does believe people are taking the topic more seriously, now that so much more is known about the effects of concussions.
"It's supposed to be a tough position. I get that," Matheny said. "But I can't explain to people what those 18 months of my life were like, and how worried I was that that was what I was going to have to deal with for the rest of my life. It is real and it is scary."
Mattingly, when asked what stance he took on the topic, said that catchers probably bring a better perspective than he would as a former first baseman.
"I kind of have been along that school, but when you hear the [Giants manager Bruce] Bochy's of the world, Jimmy Leyland, Matheny, guys talking about that, they're catchers. So they know a lot more about it," Mattingly said. "Things change. If you say you can't hit the catcher, now he stands in front of home plate basically, and you have to go around him. It's tough. But I'm sure a lot more clubs are teaching, 'Hey, don't take a shot.'"
Jenifer Langosch is a reporter for MLB.com. Read her blog, By Gosh, It's Langosch, and follow her on Twitter @LangoschMLB. This story was not subject to the approval of Major League Baseball or its clubs.