Pitch count a case-by-case issue for Matheny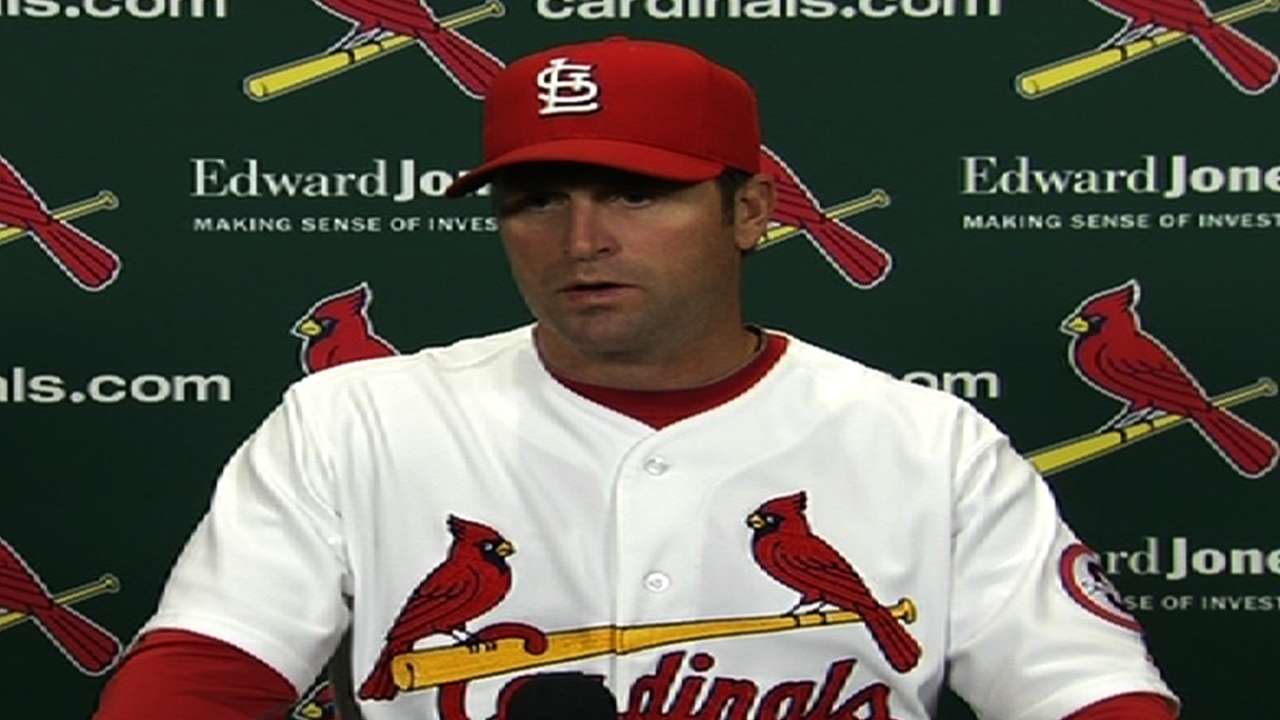 ST. LOUIS -- Mike Matheny has not been shy in pushing his starting pitchers deeper into their pitch counts than he did in his first season as Cardinals manager. And never has that been more evident than on Monday, when he had Lance Lynn throw 124 pitches -- a career high for Lynn and the most by a Cardinals starter since Chris Carpenter threw 132 in a start on June 29, 2011.
Lynn was steadfastly unconcerned about the workload afterward and actually employed a bit of hyperbole when asked about how much is too much when it comes to workload.
"For me, pitch count has never been an issue my whole life," he said. "I would never put a ceiling on it. If they told me I could go out and throw 150 if the situation called for it, I would. And I don't think I would have any issues doing it."
The club, of course, is not about to test Lynn's ambitious theory. For as the Cardinals are exploring this season, there is a delicate balance between allowing a pitcher to stay in a game when he still appears strong and risking future ineffectiveness or injury by pushing a pitcher too deep, too often.
When considering pitch count effects, it's important to remember that not all pitch counts are created equal. Different pitchers tire at different points in a start. And how hard a pitcher labors to get to a certain number of pitches is also a factor in how much wear and tear the workload will cause.
"I think definitely on this team we see certain guys get to a certain pitch count and you start to see certain trends," Matheny said. "Some guys get better as they go, and I think yesterday was an example of Lance doing that. Not that we're going to run him into the 120s every time he goes out there, but he's shown that he can make pitches when he gets to that level. There are other people that struggle when they get to the mid-90s."
In 19 of the team's first 37 games, the Cardinals have had their starter throw at least 100 pitches. At this point last season, that had happened 11 times. Only 10 times in all of 2012 did the Cardinals push a starting pitcher to a pitch count of 110. They have already matched that total this year.
Lynn became the second Cardinals starter in three days to throw 120 pitches.
"[Monday] was really the first day we really stretched somebody, and a lot of people say that 120 is really not a number to be concerned about," Matheny said. "Lance has been there many times, especially through his Minor League career. It's something he can handle. If we see something early that we don't like, it doesn't matter if it's on pitch 20 or 120, we've got to respond more to what we see and how they feel and the information they give us back. We watch these guys pretty close and see them enough to know when there are little issues, hopefully before they become big issues."
Jenifer Langosch is a reporter for MLB.com. Read her blog, By Gosh, It's Langosch, and follow her on Twitter @LangoschMLB. This story was not subject to the approval of Major League Baseball or its clubs.