Gast not fazed in advance of first start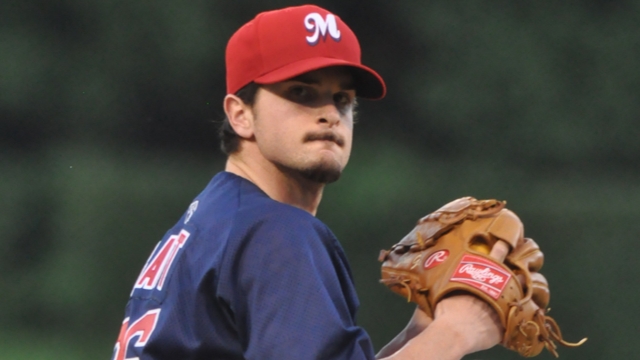 ST. LOUIS -- Left-hander John Gast looked the least bit frazzled as he held his first media session on Monday, following news that he would be coming to St. Louis to make his Major League debut. He seemed unconcerned, too, about nerves surfacing between now and Tuesday's start.
The steady professional climb that Gast has made since being a sixth-round selection out of Florida State in the 2010 First-Year Player Draft will culminate with his start against the Mets. Gast, who is temporarily taking Jake Westbrook's place in the rotation, earned the promotion after opening the Triple-A season with 32 scoreless innings.
"I obviously started pretty well," Gast said. "It's been unbelievable so far. Just another year of getting better and executing more and more, a higher percentage of the pitches."
The results were much improved over Gast's introduction to Triple-A competition the year before. The same level he dominated this April proved a struggle for him at times in 2012. He finished with a 5.10 ERA and .286 opponents' batting average in 20 Triple-A starts last year.
"I'm a lot more confident, I would say," Gast said. "And the fact of having played in that league the year before and being able to build off of it and going off of those experiences last year."
Even the task of assimilating into a new clubhouse on Monday wasn't all that daunting, Gast said, because he spent much of Spring Training as a participant in big league camp. That time also allowed manager Mike Matheny to get a better look at a pitcher who wasn't necessarily a standout in the box scores the year before.
"He just continues to improve," Matheny said. "Obviously, he had a very good April, and hopefully he can keep building on that here. He's been just a quality pitcher. He's got a good arm and knows how to pitch. He's smart."
Among those expected to be at Busch Stadium for Gast's debut will be his parents, who are traveling from Florida for the occasion.
"I'm just basically trying not to get too hyped up," said Gast, who has been assigned No. 64. "Maybe when I get here tomorrow, that's probably when [the nerves] will start kicking in, when I go out there and start playing catch. That's probably when it'll hit me."
Jenifer Langosch is a reporter for MLB.com. Read her blog, By Gosh, It's Langosch, and follow her on Twitter @LangoschMLB. This story was not subject to the approval of Major League Baseball or its clubs.