Miller, Cards' arms aim to improve...at the plate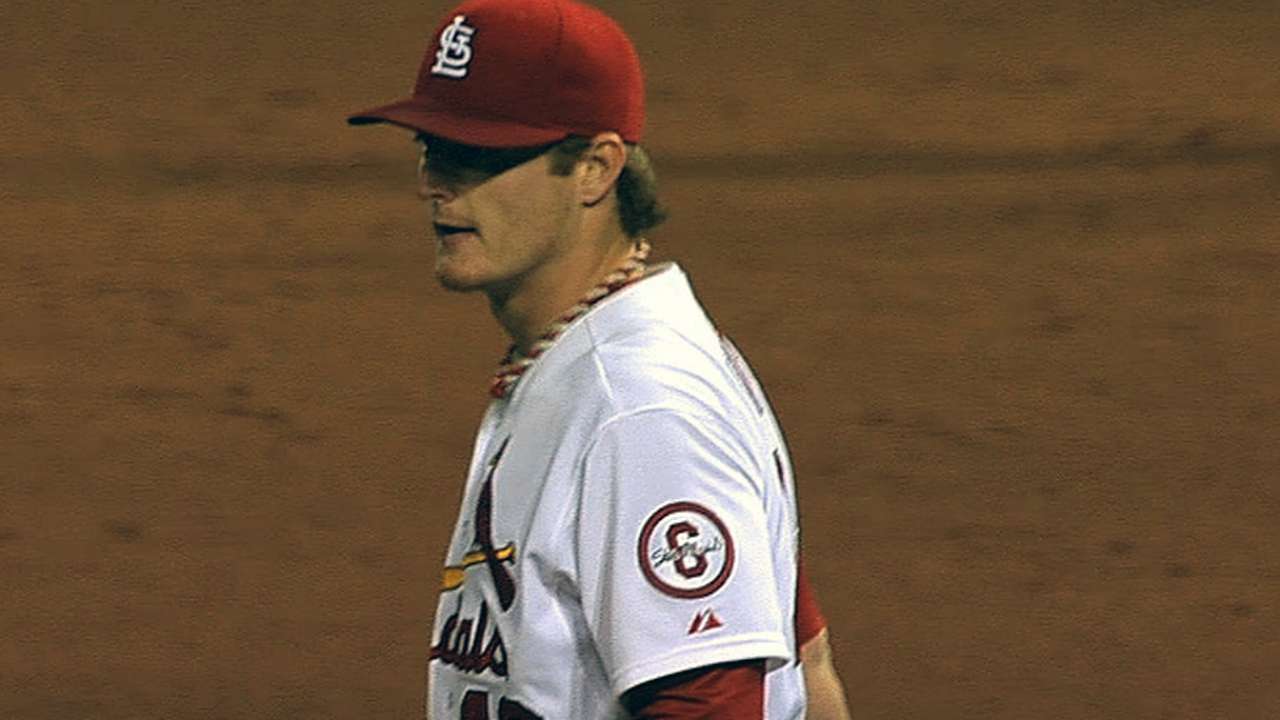 ST. LOUIS -- Rookie right-hander Shelby Miller found one minor flaw in his career-best performance on Friday night.
Miller turned in what he called, "my best game ever," by tossing a masterful one-hit shutout in a 3-0 win over the Colorado Rockies. He struck out 13 and retired the final 27 batters he faced after giving up a leadoff single to Eric Young in the first inning.
Yet Miller was upset about his lack of production at the plate. He struck out in all four at-bats. Miller, who claims to be a better-than-average hitter, is 0-for-14 this season with 12 strikeouts.
"My hitting is not very good right now," he said.
Miller, who improved to 5-2 with a 1.58 ERA on Friday, knows there is only one way to break out of the slump.
"I'm going to stay in the cage and take 100 hacks," he said. "Right now, I'm going to work on my hitting the most -- probably all day."
Miller, an early candidate for National League Rookie of the Year, is serious. He and the other St. Louis starting pitchers take their bat work seriously.
After striking out in the bottom of the eighth inning on Friday, Miller returned to the dugout and slammed his bat into the rack. St. Louis manager Mike Matheny took note of Miller's intensity.
"That wasn't a great move," Matheny said. "The only bad thing about his evening."
Still, Matheny understands Miller's frustration.
"He's an athlete," Matheny said. "All the starting pitchers think they should be batting third for us every night."
The multi-talented Miller is determined to find his stroke. He says he will spend all of his free time in the batting cage over the next few days. He hopes to flex his hitting muscles in his next start on Wednesday against the New York Mets.
Miller had two hits in three at-bats including a double in his first Major League start on Oct. 3 against Cincinnati.
He had two hits in 38 trips to the plate (.053) in four years in the Minors and is is 2-for-17 with a .118 average in the Majors.
Miller became the first NL pitcher to retire 27 successive batters after giving up a leadoff hit since Jim Bibby of Pittsburgh on May 19, 1981. Bibby surrendered his hit to Atlanta's Terry Harper, and then he retired the final 27 hitters on the way to a 5-0 win.
Steve Oberbey is a contributor to MLB.com. This story was not subject to the approval of Major League Baseball or its clubs.