Matheny holds cold Freese from lineup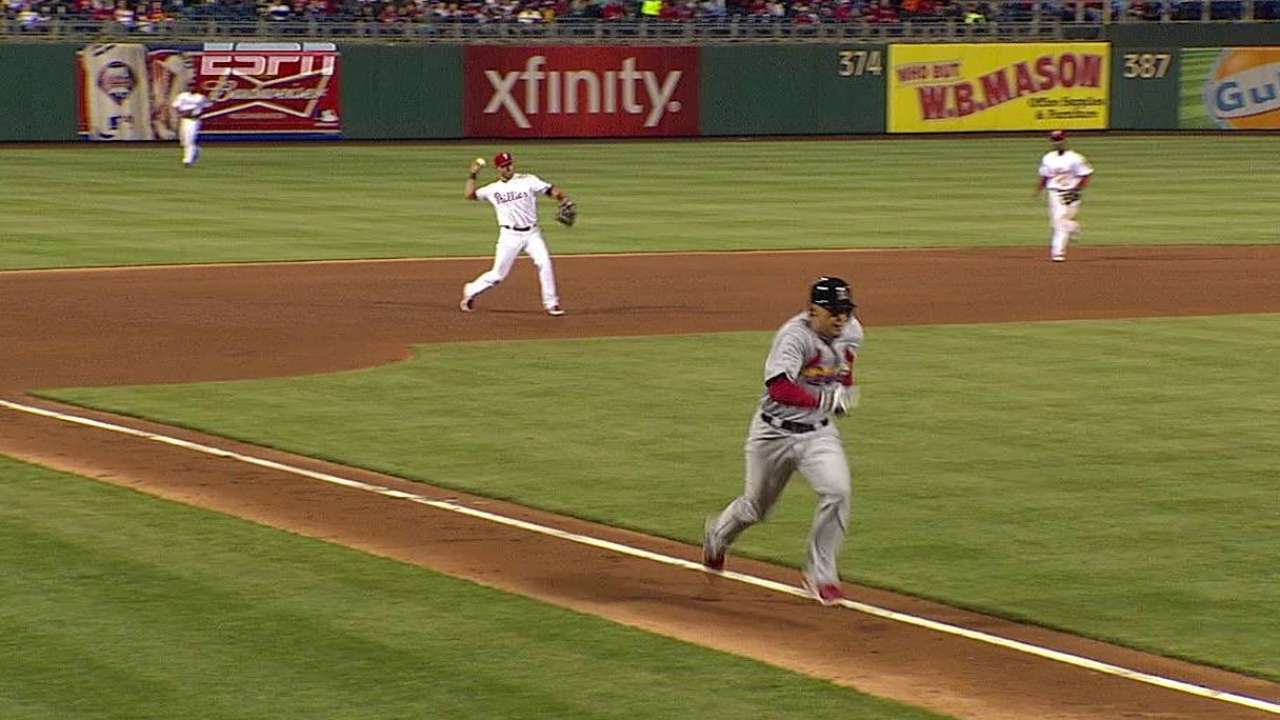 ST. LOUIS -- Despite David Freese's insistence that working his way out of his slump will best be achieved by playing through it, the Cardinals will try to find a spark by going a different route.
Manager Mike Matheny pulled Freese out of the lineup on Tuesday and inferred that Freese may remain unplugged for a few days. Freese is hitless in his last 16 at-bats, has not hit a home run this year, and has a .163 average and .255 on-base percentage.
"We've tried to let him play through, and we've tried to let him match up in situations and matchups that look like they could be favorable for him, and he's not heading in a good direction," Matheny said. "At that point you need to say, 'OK, we're going to take a different perspective here, give him a little bit of time and see how he responds.'"
Matheny made a similar move with Jon Jay last week, removing the center fielder from the lineup for consecutive days in order to give him time to fix his swing in a setting where results didn't count. Since returning from that hiatus, Jay is 3-for-8, with three walks.
Freese had periodic days off this month but has not yet missed consecutive starts.
Freese retreated to the batting cage after Monday's loss for extra work and described himself afterward as feeling "terrible" at the plate. He said the slump has become so mentally draining, too, that he has found himself struggling to pick up pitches and find his timing.
Yet he is adamant that the best way to work through the struggles is to stay on the field.
"I don't want a day off," Freese said. "Mike knows -- I fight him every time. It's more mental now. It's going back to the basics and just putting the barrel [on the ball]. A lot of guys have said over the years that if you find the barrel, you find your swing. That's what we're looking for. But you can't try to do too much, or you're going to go in a tailspin."
Freese reiterated that he is not battling any physical ailment. Back pain, which slowed him during Spring Training, has not resurfaced since he came off the disabled list on April 8.
"Right now he's just not seeing the ball, and when that happens, it's hard to go in there and get work and then come out here in game speed and try to take the thing that you have been working on and putting it into action," Matheny said. "He just needs some time to physically just work -- work on his swing -- and mentally just gather his thoughts and try to get himself in a better spot. We'll see how it plays out."
Jenifer Langosch is a reporter for MLB.com. Read her blog, By Gosh, It's Langosch, and follow her on Twitter @LangoschMLB. This story was not subject to the approval of Major League Baseball or its clubs.