Motte makes progress; decision on surgery delayed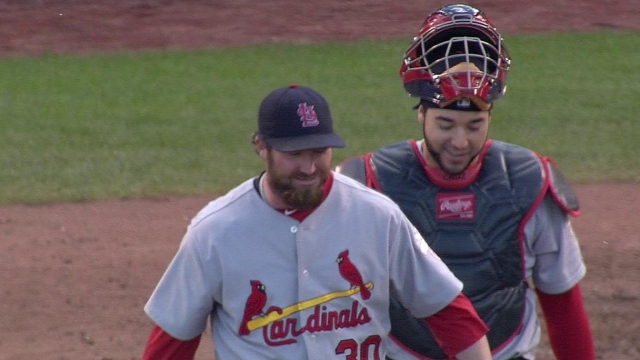 ST. LOUIS -- Jason Motte had until the middle of next week to prove to the Cardinals that he was making enough progress to warrant delaying a decision about Tommy John surgery. By picking up a baseball and playing catch Saturday morning, he has.
The session of catch was Motte's first since he was shut down after pitching on March 21. He threw 35 to 40 times from a distance that he approximated to be 30 to 40 feet. He said afterward that he did not feel anything abnormal, an encouraging sign for a pitcher who, for much of the last month, felt tightness in his right elbow.
"It was getting the throwing motion down," Motte said, "seeing how a little bit of pressure, a little bit of tension on that elbow would feel."
Motte, who received the diagnosis of a ligament tear April 11, preceded Saturday's game of catch by throwing balls into a net earlier this week. While the team was on the road for 10 days, Motte remained in St. Louis to work through a physical therapy program.
The Cardinals had initially deemed May 1 the date at which they would determine whether Motte would need to have season-ending surgery. Because of the progress Motte has made, general manager John Mozeliak said the club was comfortable pushing that deadline back.
"We had put that date out there because we were hopeful that we would know something by then," Mozeliak said. "But the fact that he is moving forward, it may push that day a little further. Had he not been able to progress to this level, then I think we know the answer."
The challenge, of course, is determining how long to stall. If the Cardinals give Motte more time for rehab and surgery is still eventually needed, that pushes back the timeframe for Motte's return in 2014. On the other hand, the Cardinals don't want to push Motte into surgery until they ensure it is absolutely necessary.
"If we thought surgery was the only option, we would have already went on and had it and stopped wasting time," Motte said. "We think there are steps we can take and rehab stuff we can do to make it better. We're doing that and trying to see what we can do to take steps forward. But at the end of the day, I'm doing everything I can, and it's up to this [elbow] to respond well or not to respond."
Motte said the way his arm responds over the next 48 hours would be a good gauge for whether the ligament was beginning to heal. If he recovers well, Motte will then slowly increase the exertion in his throwing program. If there is any setback going forward, the Cardinals are expected to recommend the season-ending procedure.
In the meantime, the organization is content to wait.
"Obviously, we're not going backwards," Mozeliak said. "There is a sense of hope, but it's still, I think, too early to start weighing in on whether there's a likelihood of him coming back."
Jenifer Langosch is a reporter for MLB.com. Read her blog, By Gosh, It's Langosch, and follow her on Twitter @LangoschMLB. This story was not subject to the approval of Major League Baseball or its clubs.