Jay gets another day to work on swing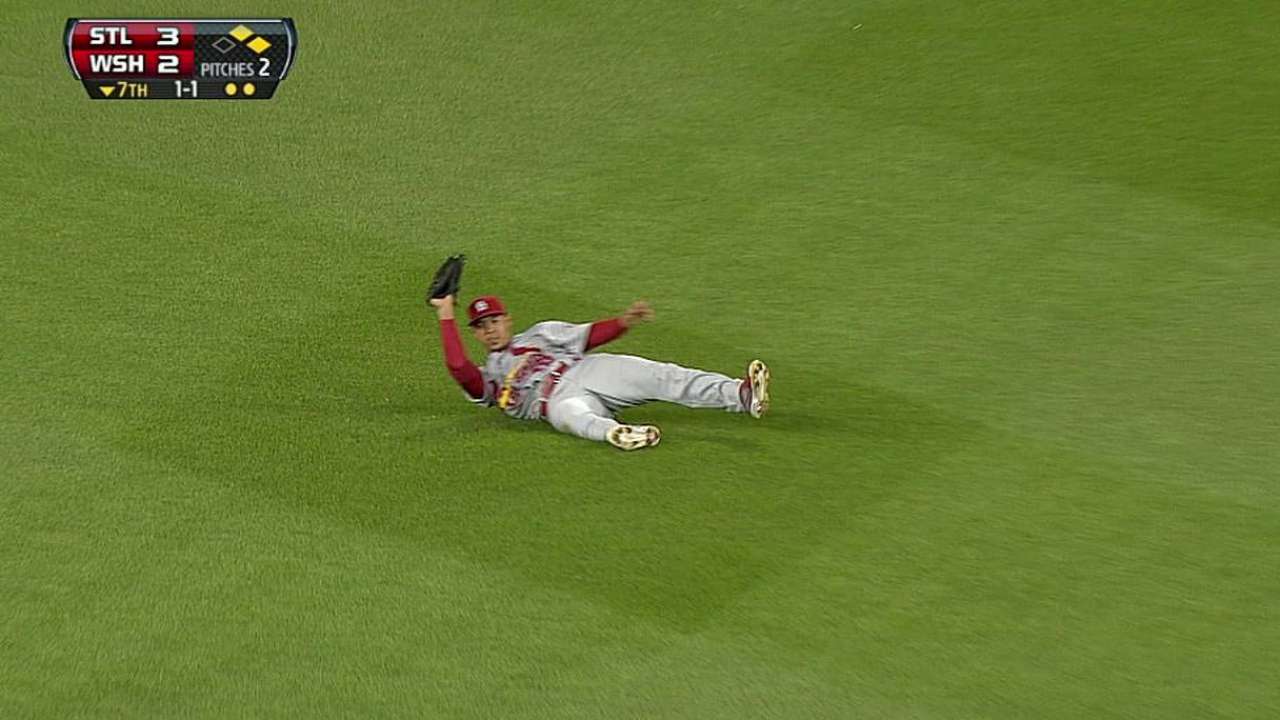 WASHINGTON -- In an effort to give Jon Jay an extended opportunity to work on his swing, manager Mike Matheny kept the center fielder out of the lineup for a second straight day. Jay is utilizing the time off to spend extra time in the batting cage, where he is specifically focusing on the timing of his complicated swing, which includes a lot more movement than most players.
"If you have that much movement, you're going to be a streaky hitter," Matheny said. "When he's hot, I think he's as hot as anybody. And when he's cold, he could be the [opposite]."
To this point it has been the latter. Though Jay left Spring Training feeling good about his timing, he has found no consistent rhythm this month. In 18 games entering play Wednesday, Jay had batted .197 with 17 strikeouts and just three walks. It's hardly the start Jay raced out to last season, when he was hitting .400 at the end of April.
"Obviously, I wish I could be doing better, but I'm not," Jay said on Wednesday. "But at the same time, I know that this is a long season and you go through this as a player. I know I'm going to come out of it.
"I feel like this year, I've had games where I've been consistent and games where I haven't been. It's just a combination of things. When things are going bad, it's bad. I haven't lost confidence in what kind of player I am and what I can bring to the table. This happens to everyone. It's not fun when you're dealing with it in the beginning of the season."
Jay compared this current stretch to the one he endured last summer, shortly after returning from a shoulder injury. As he worked to get his timing back, Jay hit .197 over a 21-game stretch from June 24-July 20. He struck out 16 times and walked seven times in 72 plate appearances.
The struggles weren't so noticeable on the stat sheet because his early-season success masked the dip in batting average. And in the end, Jay finished the season with a .305 season average.
"Jon, you forget how young he still is in his career," Matheny said. "He's still trying to figure out those keys, those cues he has to have to get him back to where he needs to be. When he gets it, it'll be fun to have him back at the top of the order."
Jenifer Langosch is a reporter for MLB.com. Read her blog, By Gosh, It's Langosch, and follow her on Twitter @LangoschMLB. This story was not subject to the approval of Major League Baseball or its clubs.