Matheny respects Molina's will to play every game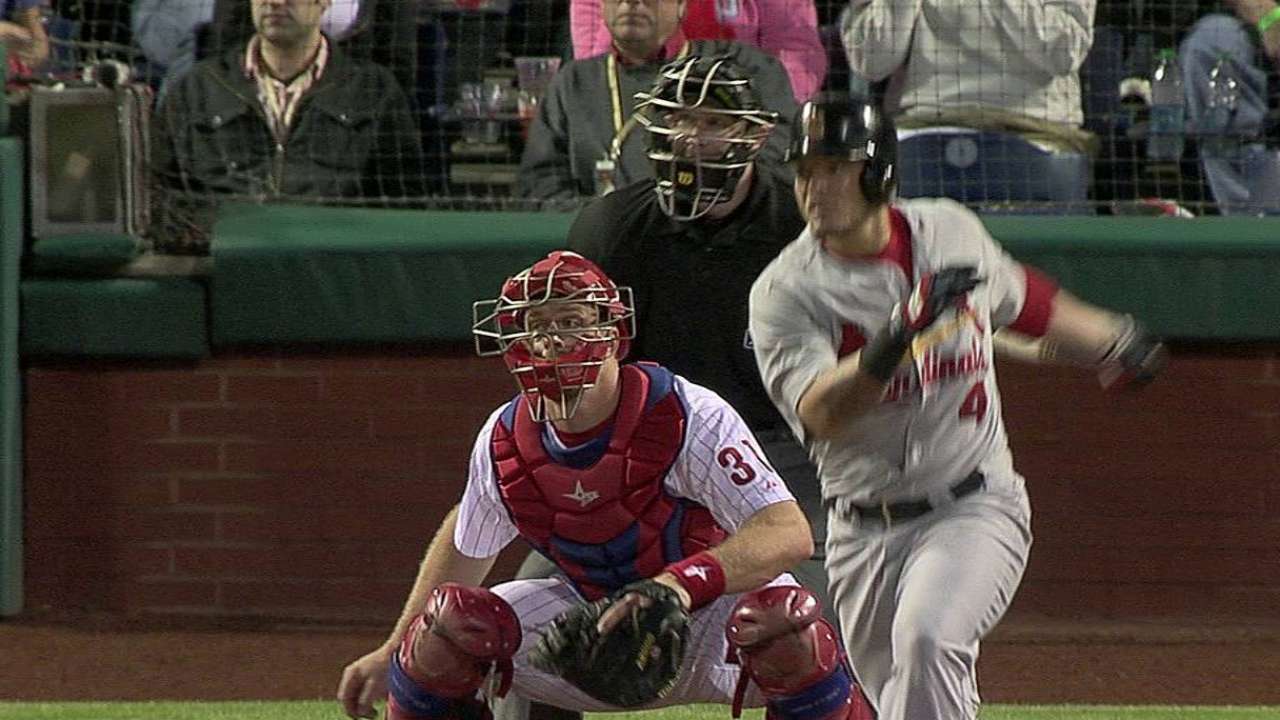 PHILADELPHIA -- After one of his rare days off, Yadier Molina was back in the Cardinals lineup Saturday night, buying manager Mike Matheny more time to invent another approach to telling the catcher about his next day of rest.
"I took his glasses and put them on and said, 'You wouldn't hit a guy with glasses,'" said Matheny. "That's how we started the conversation. This was [Thursday]. But we talked to him a week ago about Philly, saying this might be a good time, a tough trip. Let's pick a day.
"There has never been fisticuffs. [But] he would play 161 straight and he would tell you he doesn't need a rest on the last one. That's just how he is."
Matheny said he has been keeping an eye on all his players to best determine when to remove someone from the lineup for a day.
"I think we can watch these guys, what they are doing in their workouts, [and] you can see when a guy is starting to drag a little bit. Our schedule has been very favorable," said Matheny. "We have had off-days and have had a stretch of nine or 10 night games. So he is not in need of rest."
Molina has averaged 138 games the last four seasons. At age 30, he has a new iron body to go with his old iron will.
"He has been on a strict diet," said Matheny. "If he looks trimmer than he has ever been, it's because he is. He is more toned. You can see a physical difference, his goal being that the manager won't think he needs a day off. So I respect that. But we also know that we have to draw the line.
"It is tough for [backup catcher] Tony Cruz to go two weeks without being behind the plate. We're not just trying to make our bench guys feel good. They are all part of what we are doing here and we can't just let him sit and rot."
Jay Greenberg is a contributor to MLB.com. This story was not subject to the approval of Major League Baseball or its clubs.