Cards help pay tribute to Jackie with No. 42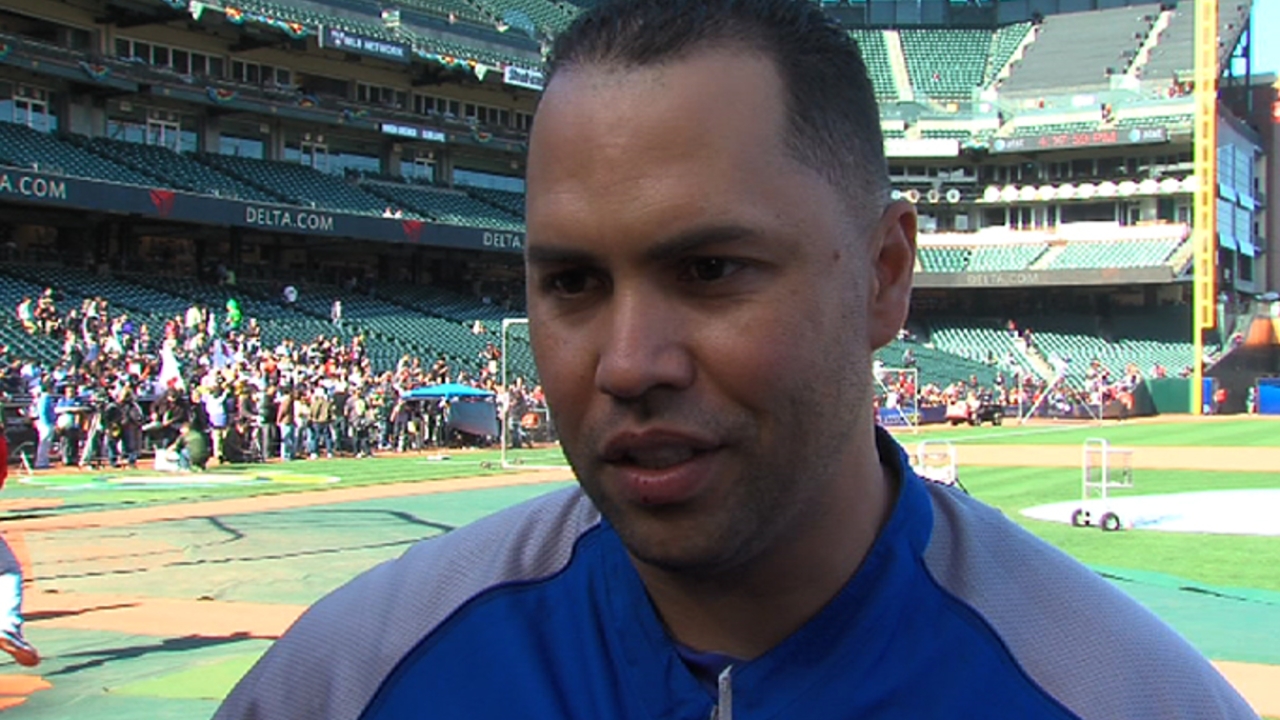 PITTSBURGH -- As has become a yearly tribute to baseball pioneer Jackie Robinson, all players and uniformed staff donned uniform No. 42 on Monday, the 66th anniversary of Robinson breaking the sport's color barrier by making his debut with the Brooklyn Dodgers.
In 1997, under the direction of Commissioner Bud Selig, Robinson's No. 42 was retired across all of Major League Baseball in an unprecedented tribute. The only active player still wearing the number is Yankees closer Mariano Rivera, who has announced that he will retire after this season. At that point, the number will only be worn every April 15.
"I think it's something that we should do," Cardinals outfielder Jon Jay said. "He opened up the doors for a lot of people -- for Latinos, anyone of color. If you think of how many people his influence has helped out, it has changed the lives of so many people who have been able to help their families by playing baseball. When you look over the last 50 years, that's a lot of people who have been taken care of because of what Jackie did.
"I can't imagine what it was like to play in those times, dealing with all he had to deal with. But I've read a lot, and when I've seen videos, he always had a smile on his face. His impact to the game was so much more than just being a player. It couldn't have been easy at all."
Jay said he hoped to soon find time to watch the recently released movie, "42," which traces Robinson's journey from the Negro Leagues' Kansas City Monarchs to the Major Leagues. Manager Mike Matheny said Monday that he, too, looked forward to seeing the film.
"I think it's huge for our sport and for our country, the courage that he had," Matheny said. "In talking to Lou Brock and Bob Gibson and hearing the stories of the struggles and the things that they had to go through, and Ted Savage, it just blows me away. It seems like it was another world.
"How these guys had to stand up to something as crazy as this, I'm ashamed that that was something they had to go through. Fortunately, people like Jackie Robinson carried that banner so well and we were able to get past it."
After Monday's game, all the Cardinals' players and coaches will sign a No. 42 jersey that will be auctioned on MLB.com. The proceeds of that auction will benefit the Jackie Robinson Foundation.
Jenifer Langosch is a reporter for MLB.com. Read her blog, By Gosh, It's Langosch, and follow her on Twitter @LangoschMLB. This story was not subject to the approval of Major League Baseball or its clubs.