Lynn utilizing old-school drills to fit new physique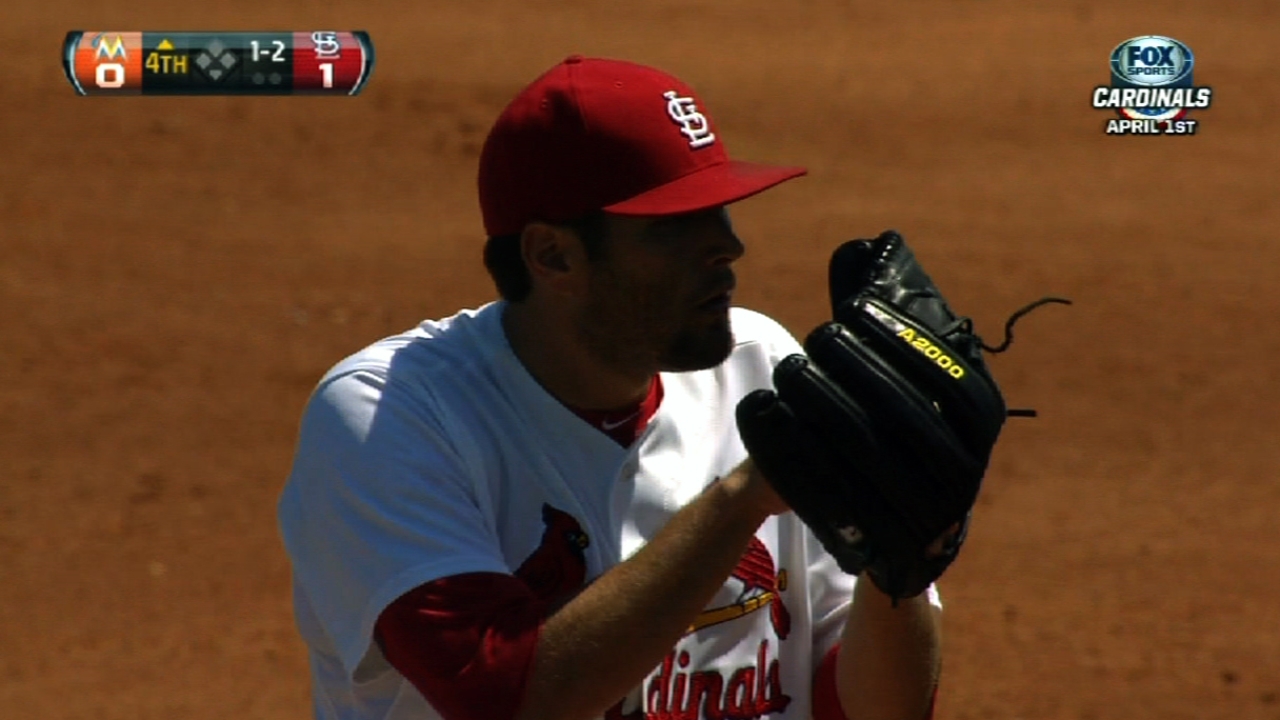 JUPITER, Fla. -- Lance Lynn closed out the spring with his strongest start yet, as well as with a clear vision for how he intends to maintain his mechanics and routine throughout the season.
Lynn turned to what he described as some "old-school drills" earlier this spring when he was adjusting his delivery to fit with his new physique. The right-hander entered camp 40 pounds lighter than he was at the conclusion of the 2012 season.
"Nothing else was working, so let's go back to when you first started pitching and things that you have done all through high school and through college and give that a go," Lynn said. "Those are the drills I was doing since I was 12 years old when I first started pitching. Sometimes you have to get back to the basics to get to where you want to go.
"I know for a while there it felt like we were going backwards. But sometimes you have to go backwards to go forwards. It has worked out well."
One of those drills incorporated nothing more than a towel, which Lynn uses to simulate the reach and direction of his delivery and release point. He'd augment that with what he described as a bounce-back drill, designed to help him repeat his motion.
Lynn did the drills daily, and he plans to continue the routine into the regular season.
"The routine that I had last year wasn't enough," Lynn said. "I know what I need to do in between starts, what I need to do as the season goes on. Last year, I kind of was just flipping a coin seeing what it was going to be like since I had never really done it before at that level. I'm looking forward to knowing what I'm getting myself into."
Lynn will start the team's series finale in Arizona on Wednesday and could draw the start in the home opener should the Cardinals choose to skip the fifth spot in the rotation next week.
The six-inning start on Thursday was Lynn's longest this spring, though he was efficient enough to go that deep with fewer pitches than he threw his last time out. Lynn finishes Grapefruit League competition having allowed 13 earned runs on 26 hits in 23 2/3 innings (a 4.94 ERA).
"Lance Lynn was nasty," manager Mike Matheny said after the team's 1-0 win. "I thought he got better every single start. He's got a little edge now to him, and a lot of that comes from everybody second-guessing his offseason work habits. Good. I hope he carries it for a long time."
Jenifer Langosch is a reporter for MLB.com. Read her blog, By Gosh, It's Langosch, and follow her on Twitter @LangoschMLB. This story was not subject to the approval of Major League Baseball or its clubs.