MRI encourages Freese on Opening Day odds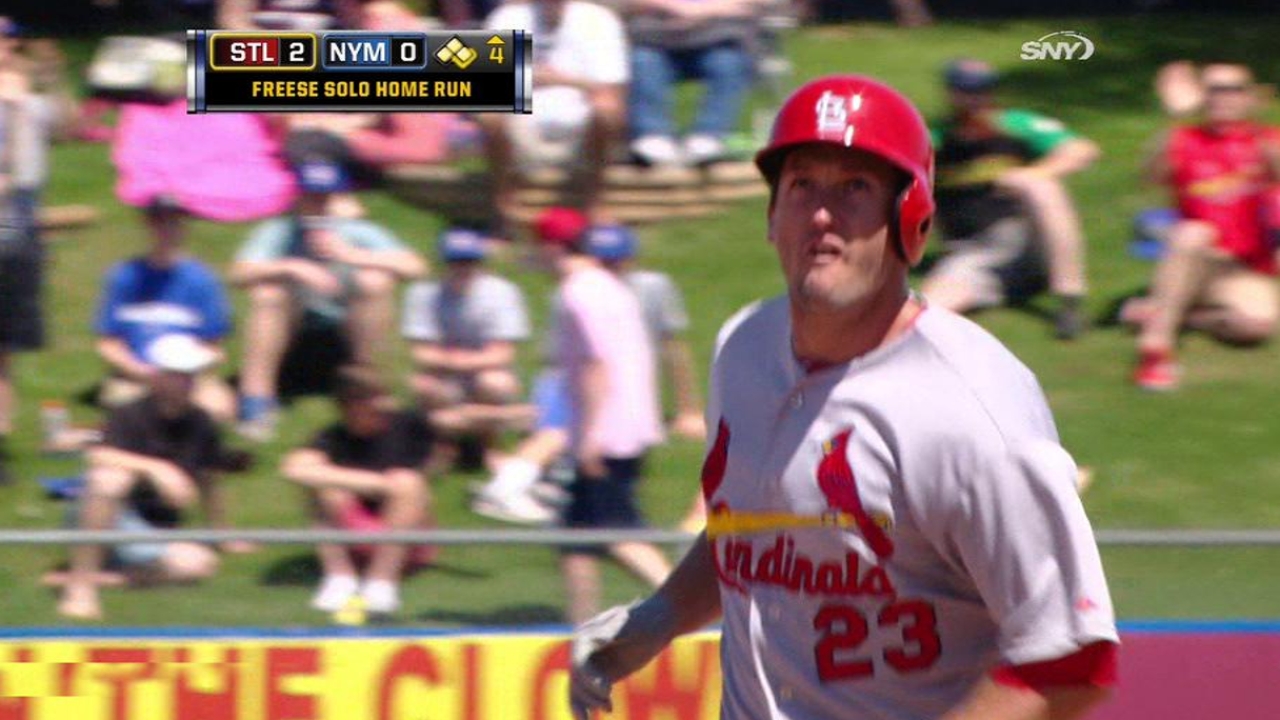 JUPITER, Fla. -- David Freese will be sidelined for at least another few days after receiving a shot Monday to address inflammation in his lower back, but he remains hopeful that he will be ready to take the field April 1 on Opening Day.
The inflammation, which is a byproduct of a tumble Freese took into the stands on March 4, was identified in an MRI the third baseman underwent Monday morning. Both Freese and general manager John Mozeliak agreed the results of the MRI were "encouraging," showing no issue with any of the discs in Freese's back.
Freese was scratched from the Cardinals' lineup just before first pitch Sunday after running and swinging aggravated his back during morning workouts. That left the organization with growing concern that Freese would not be ready to play by the time the team took the field for its season opener against the D-backs.
The outlook seemed a little brighter a day later.
"I didn't really know what to expect, but I feel extremely better today than yesterday," Freese said. "Before that, I was feeling great, the best I've felt. As far as [Opening Day on] Monday, it's a possibility. In 48 hours, we'll know more."
Mozeliak, too, said that Freese has "not been ruled out" for the season opener.
Freese has started and stopped his work several times now over the past three weeks and as a result, has had only 16 at-bats since first bruising his tailbone. With only four Grapefruit League games remaining on the team's schedule, Freese may not have an opportunity to play in another.
The Cardinals may not even want him to appear in one. By keeping Freese out of Major League Spring Training games, the club could backdate a potential disabled list assignment for the third baseman to March 23. That would shrink the minimum required stay from 15 days to six, and Freese could play in Minor League games without affecting it.
Freese has had 30 at-bats since the start of spring games -- enough at-bats, he said, to be ready for the regular season, if healthy.
"I think it's kind of a fickle thing," said Freese, who has eight hits this spring. "You could take 80 at-bats in Spring Training and come out 0-for-20, and you could take 20 at-bats and hit .500 the first road trip. I felt I was seeing the ball all right. You just have to get back to being focused. If it comes to that and I just get BP in for a couple days before Monday, I'm OK with that."
Jenifer Langosch is a reporter for MLB.com. Read her blog, By Gosh, It's Langosch, and follow her on Twitter @LangoschMLB. This story was not subject to the approval of Major League Baseball or its clubs.