Matheny addresses report of financial issues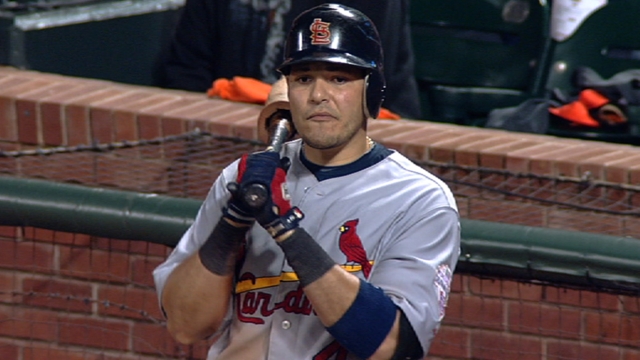 ST. LOUIS -- A day after Mike Matheny's current financial situation -- one that has him facing potential bankruptcy due to a series of investments gone wrong -- was delineated, in detail, in the St. Louis Post-Dispatch, the Cardinals manager stressed that terming it as "financial woe" would be a mischaracterization.
Matheny, according to the Post-Dispatch, is expected to owe more than $4 million to pay off debt that lingers from failed real-estate investments. The newspaper outlined Matheny's 2007 purchase of property that he and a business partner had hoped to develop. Not long after the purchase, the economy took a downturn. According to the Post-Dispatch, Matheny, citing the need to look out for his family's interest, stopped making loan payments in 2010.
Ten days ago, a court ruling against Matheny left him facing the reality that he will likely lose his entire net worth, the Post-Dispatch reported. Matheny, who is making less than $1 million a year as the Cardinals manager, said Monday that he and his family have come to peace with the situation and are ready to make amends and move past it.
"There actually were no woes and that was unfortunate because it was translated that way, but it was a pretty cool story altogether of family and strength and faith and just peace and joy that you can't put a description on except as a gift," Matheny said, seemingly taking exception to seeing the word "woes" in the headline of the newspaper article.
"It was pretty impressive because you just never know any situation how you're going to react until you get into it, but I was able to show up every day with an incredible ability to just focus and do my job, and stuff on the outside I was able to compartmentalize and deal with that as I had to.
"But the support group of family and friends who have kind of walked with us for the last few years ... this stuff really has kind of been old news, but it's still been there and it is a story that doesn't have anything to do with woes. It's about some pretty cool things that have happened, but I'm looking forward to moving on."
According to the Post-Dispatch, a March 13 court date has been set to hear any objections to the amount of money Matheny will be required to pay back.