Molina excited to have brother as Cards coach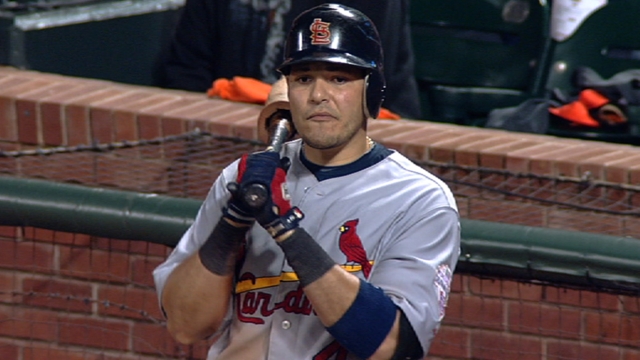 ST. LOUIS -- Having never had the opportunity to play professionally with his older brother Bengie, Cardinals catcher Yadier Molina spoke Monday about his anticipation over the prospect of donning the same uniform this season. Along with that came an endorsement as well.
"It's going to be awesome. I can't wait," said Yadier Molina, the youngest of the three Molina brothers to play professional baseball. "Bengie is a great guy to have on your side. It's going to be awesome. He knows about hitting, too. He's going to be a good help for our team."
After signing his contract Friday, Bengie Molina, who last appeared in the Majors in 2010, officially became a member of an organization that once nearly added him to its roster.
Molina, a lifetime .274 hitter, takes the coaching position most recently held by John Mabry, who moved into the role of hitting coach following Mark McGwire's departure. The Cardinals identified Molina as an ideal fit because of his catching background. He spent his career breaking down hitters for his pitching staff. Now, he'll be an asset in breaking down opposing pitchers for his hitters.
Asked to comment about the impact of his new assistant coach, Mabry summed it up succinctly: "You can never have too many Molinas on your team."