DeWitt discusses Cardinals' increasing payroll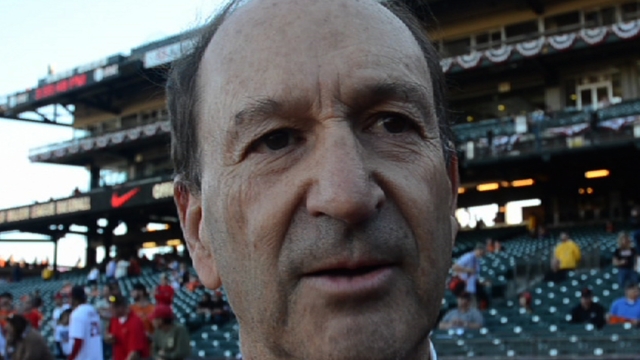 ST. LOUIS -- Cardinals principal owner Bill DeWitt Jr. said on Sunday that he envisions the team's payroll increasing over the next few years due mostly to the rising cost of retaining some of the organization's core players.
The Cardinals are likely to open with a payroll of about $115 million in 2013. The club ended '12 with a payroll of about $110 million.
"To maintain the club that we have and do what I think we need to do, there's a good chance," DeWitt said when asked about upping the payroll. "Now, you don't want to just raise it to raise it. But we will have the flexibility to do that if we see opportunities to spend the money wisely."
The payroll will take a sure boost if the Cardinals are able to sign starter Adam Wainwright to a contract extension this year. Wainwright is in the final year of his current deal, and the two sides have both expressed interest in finding a way to ensure that the pitcher stays in St. Louis beyond this season.
The Cardinals are expected to increase dialogue with Wainwright's agent soon.
"He's one of those guys who I was referring to when I said we try to get the kind of players who are competitive, talented and leaders and will do anything for the team and the community," DeWitt said. "You can be sure we'll try to sign him. Whether we'll be able to remains to be seen. But he's the kind of player that we want on the Cardinals.
"These are never easy negotiations when you get up to the level where he is."
DeWitt also commented tangentially on the escalating television deals that are creating a windfall of money for organizations to invest back into the Major League payroll. The result has been a growing financial cost of securing players in free agency and a growing resource cost in acquiring players in trade.
That reality, DeWitt said, just makes drafting and developing talent that much more imperative.
"Some of the contracts out there even for some of the players you wouldn't expect it for, they're a concern," DeWitt said. "It just points out that you better have depth coming, because even to get depth on your club now is expensive. It's a strategic job to get that done. I really like our position today with what we have behind the Major League club. The challenge is to keep bringing that up."