Cardinals celebrate '67 championship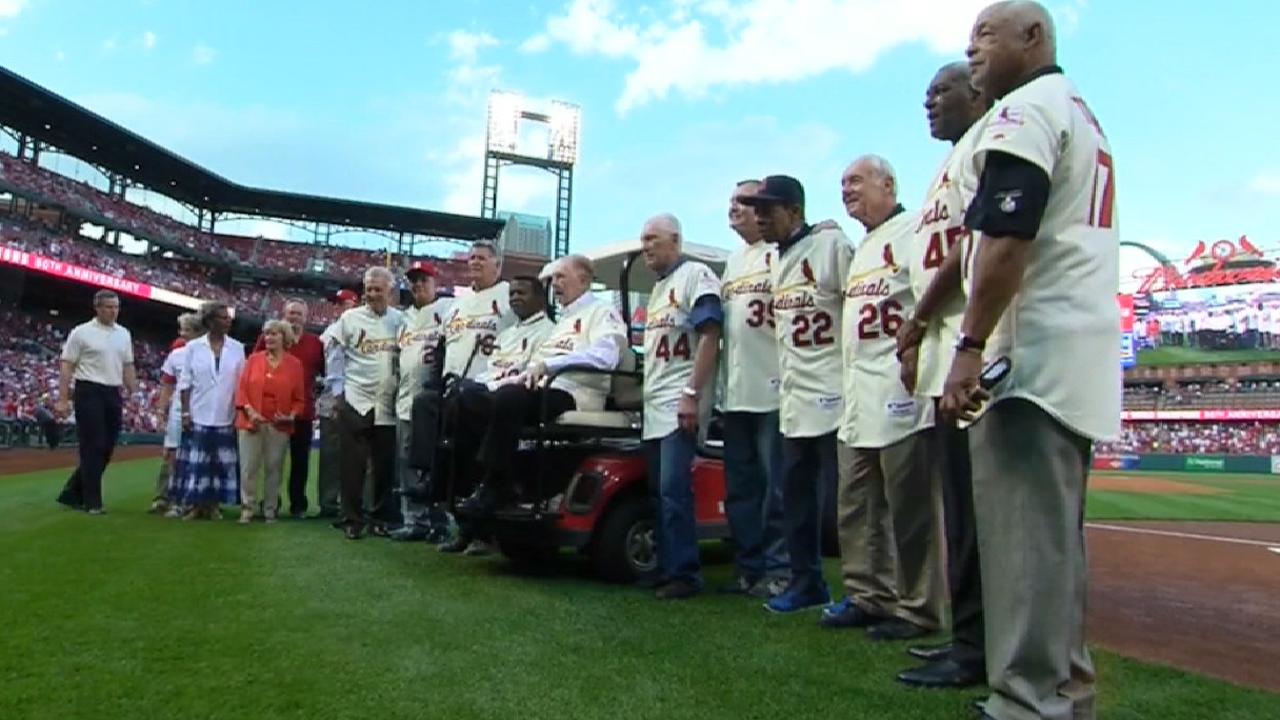 ST. LOUIS -- Fifty years after defeating the Red Sox in seven games to capture the franchise's eighth World Series championship, members of the Cardinals' 1967 team gathered at Busch Stadium on Wednesday as part of an anniversary celebration. Mostly, though, they just wanted to share stories.
Reunions have become rare for this bunch, outside of those who remain employed by the organization or have made St. Louis their home. And so when they do get together, as 13 players from that team and manager Red Schoendienst did on Wednesday, conversation so easily turns to reminiscing.
"I love St. Louis," said Orlando Cepeda, the National League's Most Valuable Player during that '67 season. "I love the team. I love my teammates. We're still great friends."
That team coasted to the National League pennant that year while winning 101 games and took three of the first four games from the Red Sox in that World Series. But the Red Sox brought the Series back to Boston and pushed it to a seventh game, which Bob Gibson would start and win, just months after suffering a broken leg. He earned three wins in that World Series, all complete games.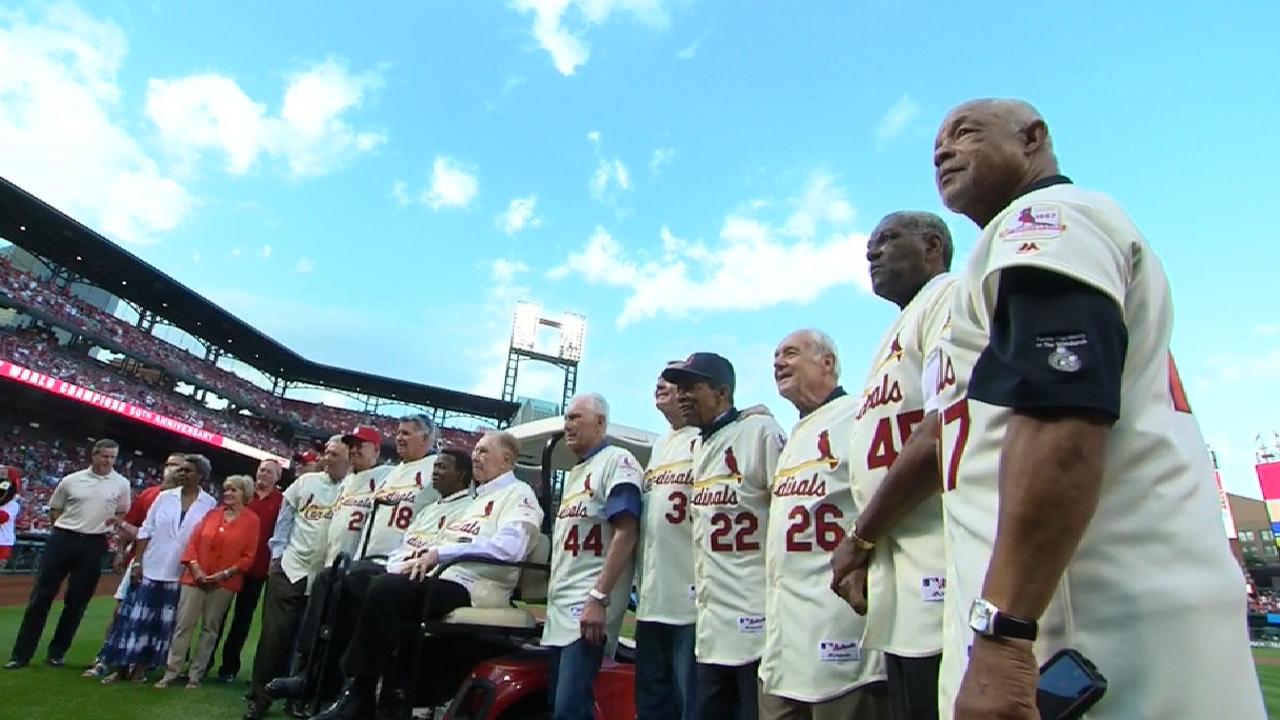 "I always told Red, 'When you think about taking me out, look down in the bullpen and tell me what you see,'" Gibson recalled on Wednesday. "I wasn't going to come out."
Several players cited the added motivation of waking up on the morning of Game 7 to see the headline "Lonborg and Champagne" dominating the front page of the Boston Record American. It was as if the city was already celebrating.
The Cardinals responded by scoring seven runs off Red Sox starter Jim Lonborg in the decisive game. Julian Javier hit a home run that day. Gibson did, too.
"That upset us," Tim McCarver said of the headline. "That's all we needed with Gibson going. It was perhaps the most viciously competitive individuals on any team that I was ever a part of. [We were] a ruthlessly competitive team."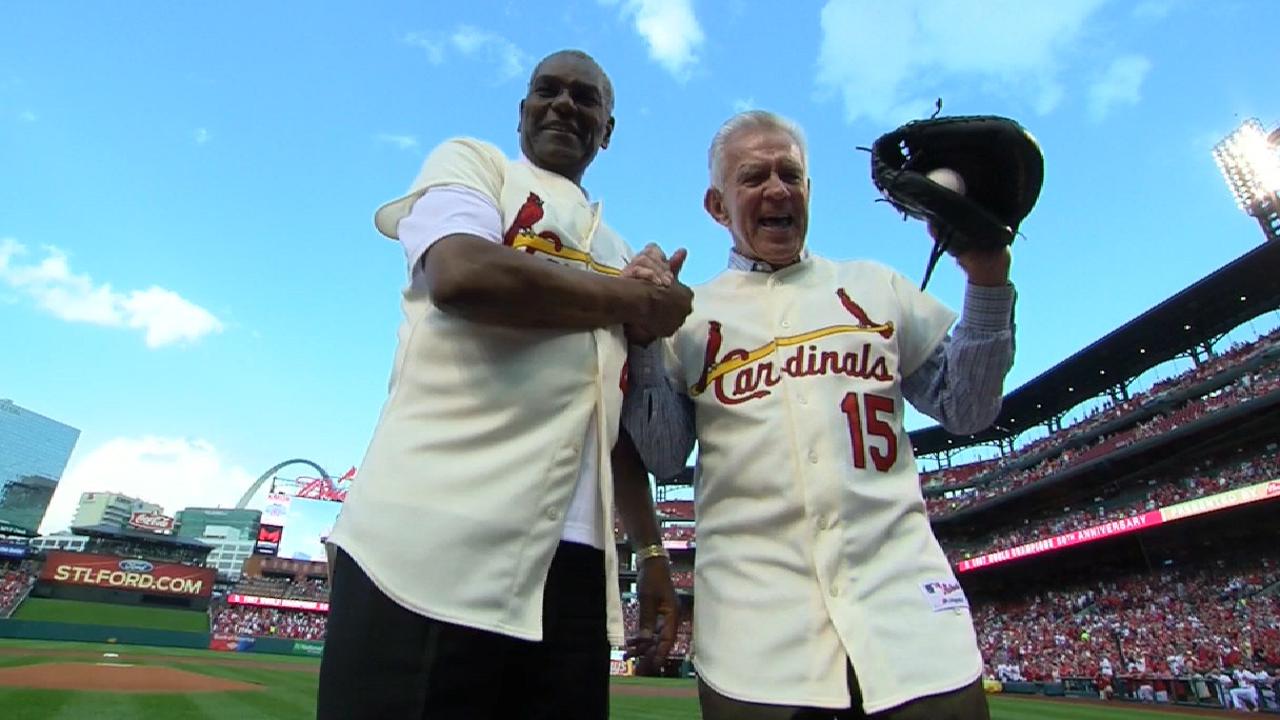 Those able to make it back to St. Louis this week were paraded around the field before Wednesday's game against, fittingly, the Red Sox. Some of the loudest applause came with the introductions of Lou Brock and Schoendienst. It was Brock's first public appearance since announcing that he was undergoing treatment for multiple myeloma, a blood cancer. Schoendienst, 94, has been absent recently while recovering from a heart procedure.
The Cardinals capped the pregame ceremony by sending Gibson to the mound, where he delivered a ceremonial first pitch to McCarver. Several current Cardinals stood on the dugout step to watch.
"We start talking about that as early as Spring Training, the legacy of what this organization stands for," manager Mike Matheny said. "It's something we don't take lightly. We believe there is something to understanding that it is more than a jersey, more than just another baseball team. You look at some of these names and how they went about their business and what they accomplished, that's our responsibility to try and keep it moving in a positive direction."
Jenifer Langosch has covered the Cardinals for MLB.com since 2012, and previously covered the Pirates from 2007-11. Follow her on Twitter, like her Facebook page and listen to her podcast. This story was not subject to the approval of Major League Baseball or its clubs.