Mixed results in Rosenthal's long-awaited start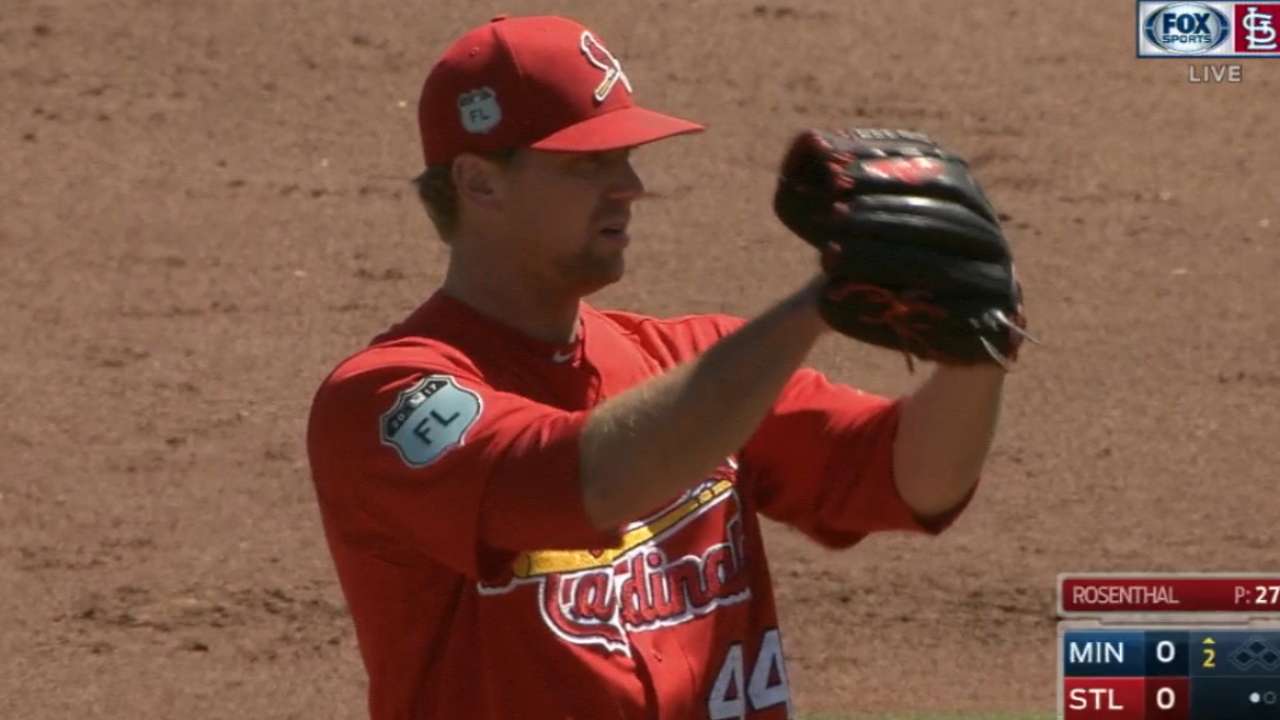 JUPITER, Fla. -- Craving for a chance to start ever since the Cardinals brought him to the Majors as a reliever in 2012, Trevor Rosenthal got that opportunity on Thursday.
The start came 10 days after Rosenthal had to miss one due to discomfort around his right lat muscle. That layoff, Rosenthal said, left him feeling like he was "back at ground zero" in Thursday's 2-1 win over the Twins, and it showed a bit in the lack of efficiency, as Rosenthal had trouble closing out both innings he pitched.
He retired the first two batters in the opening frame, only to walk the next two. An inning later, he surrendered back-to-back, two-out singles. Rosenthal didn't allow a run in either inning, but it took him 38 pitches (20 strikes) to navigate through.
"That's something he can be better at," manager Mike Matheny said. "In order to get through multiple innings, you have to have something else working [besides the fastball]. Right there, at the beginning, he was pretty overpowering with his fastball. But he is going to have to have his secondary pitches to be stretched out."
Efficiency issues plagued Rosenthal during a tumultuous 2016 season. He averaged 21 pitches per inning, which was an average of four pitches-per-inning higher than in 2015.
Lowering that pitch count will be key, too, if Rosenthal fits into a role where he's asked to pitch multiple innings. The Cardinals remain curious about the many ways in which they could deploy Rosenthal this season. The club is exploring the idea of using him as a starter (though that interest seems to have cooled since his lat injury), or a multiple-inning reliever. Rosenthal could even pitch his way back into a setup role.
"I mean I'm just excited to pitch well," Rosenthal said. "I don't know what it's going to look like. I feel like with the experience I've had and the pitcher I am, I could fill different roles and do different things. If I'm going out there and being effective, I'm pretty excited about that."
Clarity regarding his role may or may not come for Rosenthal over the final two weeks of camp. The Cardinals have acknowledged the possibility of entering the season still viewing the former closer as a flex reliever.
To succeed in a long-relief role, Rosenthal will also need to have command of multiple pitches. He averaged the highest velocity (97.2 mph) per pitch of any Cardinals pitcher last season, but the fastball won't be enough. A changeup and slider will be necessary for Rosenthal if he's asked to go through a lineup multiple times.
Work on those pitches picked back over the last week after Rosenthal received assurance from the medical staff that he could return to the mound.
"I felt like I took a couple steps back," Rosenthal said, referring to the time he was sidelined. "But where I'm at now, with the amount of time left and how I'm feeling, I should be able to regain that focus and make strides over the next couple weeks."
Jenifer Langosch has covered the Cardinals for MLB.com since 2012, and previously covered the Pirates from 2007-11. Read her blog, follow her on Twitter, like her Facebook page and listen to her podcast. This story was not subject to the approval of Major League Baseball or its clubs.