Wainwright rediscovering changeup
Righty using full repertoire in attempt to become even better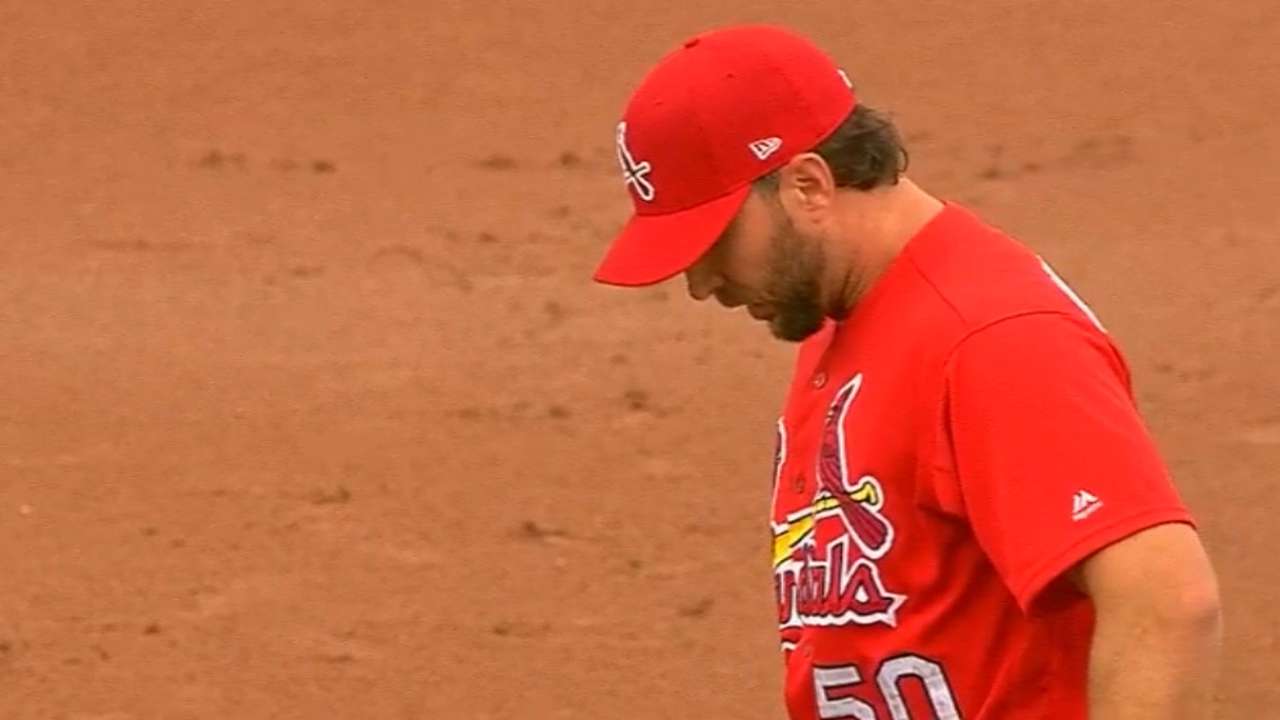 JUPITER, Fla. -- Adam Wainwright exited his first start of the spring relieved to have rediscovered the feel for his curveball. Five days later, it was the effectiveness of the changeup that left Wainwright hopeful of what could be with a refined and expanded repertoire this year.
Wainwright threw 44 pitches in three scoreless innings in Tuesday's 9-2 win over the Marlins and noted afterward that he "threw probably more changeups today in three innings than I have in an entire game in the big leagues."
It likely wasn't hyperbole, either, as the changeup was a pitch Wainwright has mostly filed away since he moved into the Cardinals' rotation in 2007. Last season, for instance, he threw 72 of them. That represented 2.3 percent of Wainwright's total pitches.
His highest percentage since coming back from Tommy John surgery in 2011 was 5.5, back in 2012. Wainwright said he steered away from the changeup for several years because of the success he was having with the cutter. Now, he's seeking grips for both.
"I'm having a lot of fun creating that mix where, hopefully, the hitters don't know what is coming," Wainwright said. "You have to be willing to adjust to whatever the batter tells me I need to do. I don't have a 99-mph fastball to go out there and just live on. The hitter always tells me what I need to do, and I just feel like when you stop looking, you stop trying to be better."
That is vintage Wainwright, who is constantly tinkering with pitches, altering deliveries or even changing his spot on the rubber to try and gain an edge. Evidence that the changeup could be an effective pitch for him in 2017 came in the form of multiple swings and misses by Marlins hitters on Tuesday.
"Whenever you're seeing the hitters up there taking the swings that they're taking, it's just a great sign," manager Mike Matheny said. "A lot of the times it's hard to even tell from the side because it has a lot of characteristics as far as depth and speed as his cutter when he throws it in the mid-80s. But definitely some great results against those left-handed hitters. That cutter will speed them up and the changeup, obviously, will slow him down."
This isn't the first time, however, that Wainwright has showcased the changeup in Spring Training. But this time, he insists that he'll remain committed to utilizing it once the calendar turns to April.
"There's always something exciting in my mind like, 'OK, you have reached a certain point here, but what if you do this? What if you find that?'" Wainwright said. "I like the pursuit of being greater. "
Jenifer Langosch has covered the Cardinals for MLB.com since 2012, and previously covered the Pirates from 2007-11. Read her blog, follow her on Twitter, like her Facebook page and listen to her podcast. This story was not subject to the approval of Major League Baseball or its clubs.