Starter in Minors, Rosenthal may join rotation
With Reyes out, Wacha and Weaver also in mix for Cards' No. 5 spot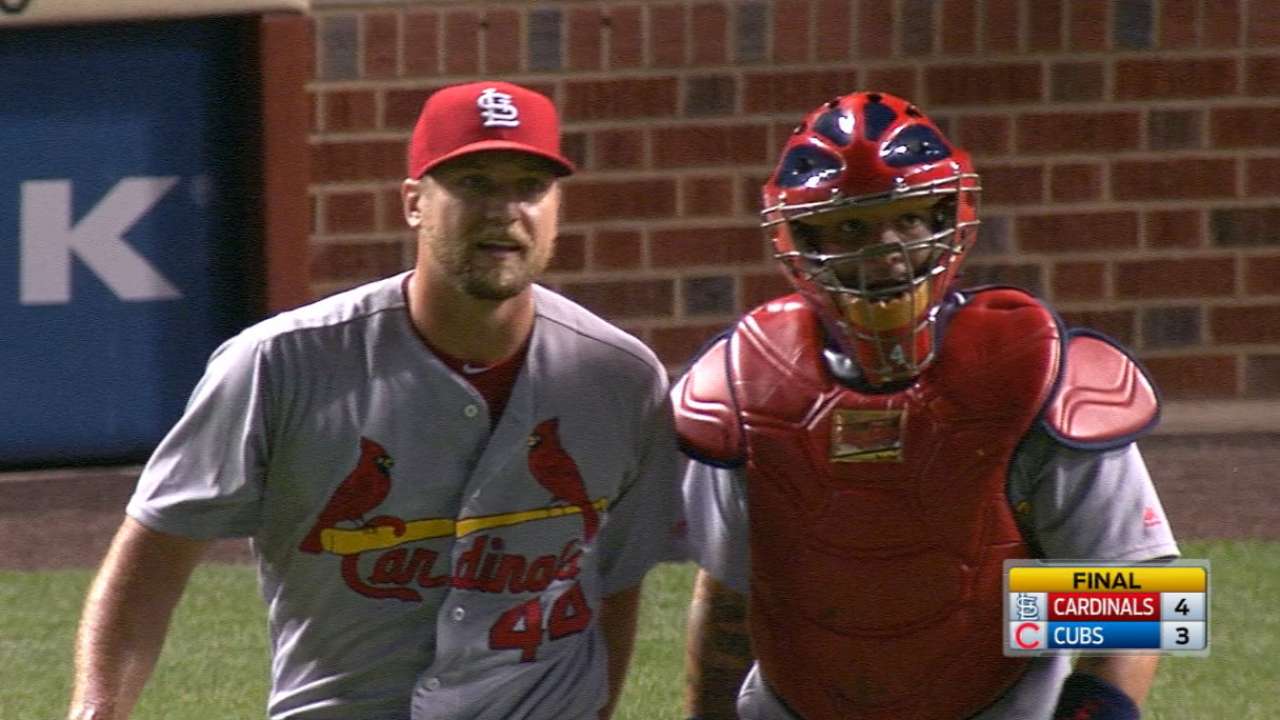 JUPITER, Fla. -- Though the Cardinals endured their first reality check of spring by learning that top prospect Alex Reyes will undergo Tommy John surgery and won't throw a pitch in 2017, this is an organization that recognizes that opportunity emerges through absence.
Six years ago, it was Kyle McClellan who got his first chance to start after Adam Wainwright required spring Tommy John surgery. Two years later, Shelby Miller earned his promotion to the Majors because Chris Carpenter couldn't pitch.
• Spring Training: Info | Tickets | Schedule | Gear
With Reyes no longer in the mix for a rotation spot, the Cardinals will look closely at three others who could fill that spot. Two -- Michael Wacha and Luke Weaver -- have been in a big league rotation before. The other, Trevor Rosenthal, is trying to reinvent himself.
• Wacha, Matheny thrilled with righty's session
The Cardinals decided last fall that they'd stretch out Rosenthal this spring to increase the ways in which he could fit on the roster. Most expected this would still lead to Rosenthal returning to the bullpen, but, given these recent developments, Rosenthal will also be considered as a starter.
"It's interesting," Rosenthal said of the opportunity. "I try not to view it as a great thing or a bad thing. I have to pitch well and then everything will take care of itself. … Coming up as a starter, I just really loved the routine of it. I loved that competition of pitching deep into the game."
Rosenthal hasn't started since 2012, when he was still in the Minors. By the end of the following season, he had become the Cardinals' closer, a job Rosenthal retained until midway through '16.
That ninth-inning job belongs to Seung Hwan Oh, and that prompted the Cardinals to think of new ways to utilize Rosenthal. Liking what they saw of him in a three-inning appearance last September and intrigued by the unconventional roles late-inning relievers took on in the postseason, the Cards wanted to add to Rosenthal's versatility.
"Let's see what it looks like," manager Mike Matheny said. "Maybe it is a different opportunity."
Key for Rosenthal will be rediscovering his command and showing a more versatile arsenal of pitches. His walk rate soared to 6.5 per nine innings last year, though Rosenthal believes that was one of the detrimental effects of pitching through a shoulder injury.
As a reliever, Rosenthal relied almost entirely on his fastball and changeup. To handle a role in which he'd face hitters multiple times, Rosenthal would need to incorporate at least one other pitch into that mix. He does have a curveball and cutter in his repertoire.
"Having command of the strike zone, commanding the fastball, different approaches to different types of hitters, it's being an all-encompassing pitcher," Rosenthal said. "I think guys who have been around have learned how to change on a certain day depending on what kind of stuff they feel they have. That's one area I'll work at growing in."
Jenifer Langosch has covered the Cardinals for MLB.com since 2012, and previously covered the Pirates from 2007-11. Read her blog, follow her on Twitter, like her Facebook page and listen to her podcast. This story was not subject to the approval of Major League Baseball or its clubs.