Cards confident Molina still among game's elite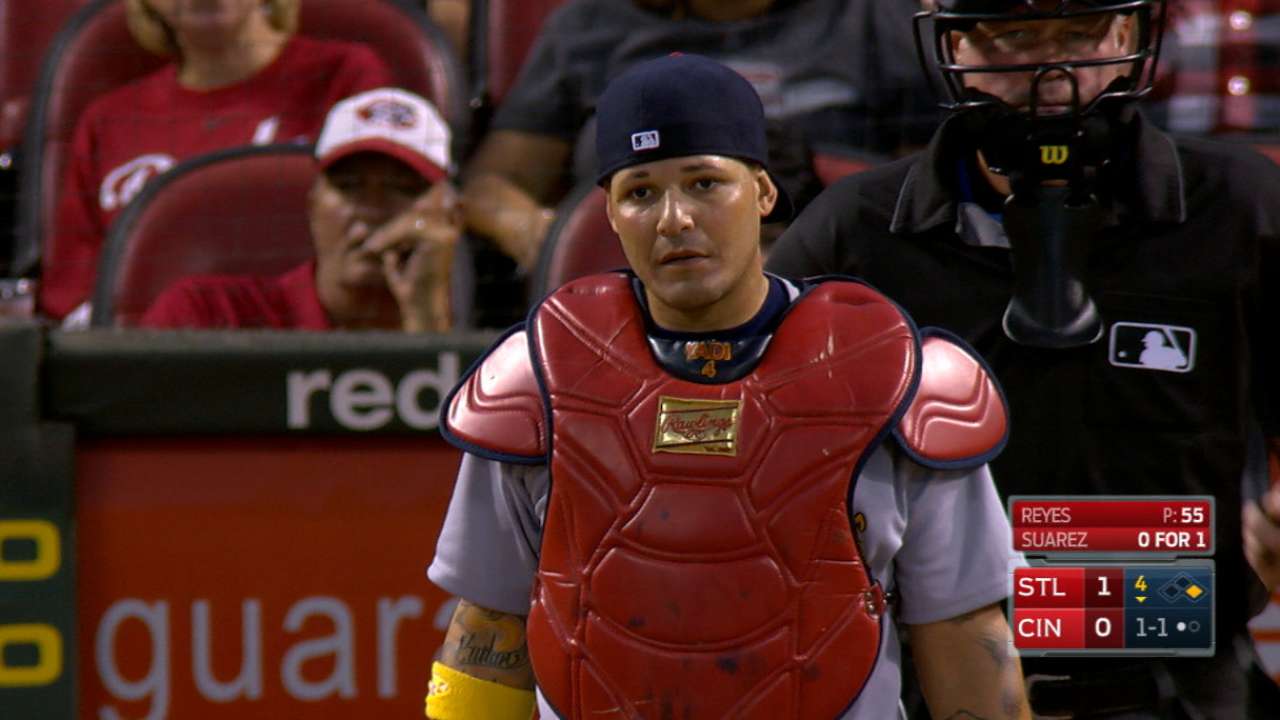 With Spring Training fast approaching, MLB.com will take a look at a different aspect of this year's Cardinals squad each day this week. Today's topic: How's your star?
ST. LOUIS -- Though the Cardinals' core is taking on a more youthful look, the longest-tenured member of the organization remains its pillar. That'd be Yadier Molina, who is poised to play his 14th season for the Cardinals in 2017.
Molina has been the backbone of this franchise for years, but 2017 will bring with it some interesting wrinkles. Molina is entering the final guaranteed year of his contract, and both he and the Cardinals have expressed an interest in discussing a potential extension.
• 30 stars ready to shine bright in 2017
For the Cardinals, the most challenging part of those negotiations will likely be determining how much to invest in a catcher who will be 35 years old in July. The rise and potential of young catcher Carson Kelly further complicates that decision. For while there is no debate about how valuable Molina has been to this franchise since 2004, there is the competing reality that Molina will eventually endure a performance decline.
The Cardinals, however, are bullish that such a decline is not coming this season. Molina is coming off a year in which he started a career-high and Major League-most 142 games behind the plate. Asked if he might back off in his use of Molina this season, manager Mike Matheny instead forecasted more of the same.
"My job description is to win games," Matheny said last month. "And if I have a player that I feel like is going to help us win games and that I feel is able to answer the bell, he's going to be in the lineup."
Molina earned his manager's continued vote of confidence by matching last season's durability with impactful production. Not only did he stay healthy, but Molina emerged as the Cardinals' most consistent offensive producer in the second half. His .365 batting average after the All-Star break ranked second best in the Majors.
Furthermore, Molina finished the year leading all catchers in average (.307), hits (164) and doubles (38).
"That's the goal. That's the goal," Molina said of such sustained production. "That's what the offseason workouts do for you when you do it right. That's my plan in the offseason: to work hard and to try to play as many games as I can and stay healthy."
Molina's ability to nurse the pitching staff through the season has made him the most indispensable and irreplaceable player on a Cardinals team that has made it to the postseason nine times since Molina debuted. His continued mentorship will be invaluable especially to young pitchers.
Molina has said he's motivated by the fact that he was denied a ninth consecutive Gold Glove Award last fall. The drop in Molina's caught-stealing percentage (it was 21 percent in 2016) hurt his case among voters.
All of this -- the playing time, contract status and attempt to defy typical age regression -- puts Molina back in the spotlight as the start of camp nears. And how Molina responds to each challenge could greatly affect how the Cardinals' season unfolds.
Jenifer Langosch has covered the Cardinals for MLB.com since 2012, and previously covered the Pirates from 2007-11. Read her blog, follow her on Twitter, like her Facebook page and listen to her podcast. This story was not subject to the approval of Major League Baseball or its clubs.