Big first inning sets tone for hot-hitting Cards
Using 140th different lineup, St. Louis opens game with four runs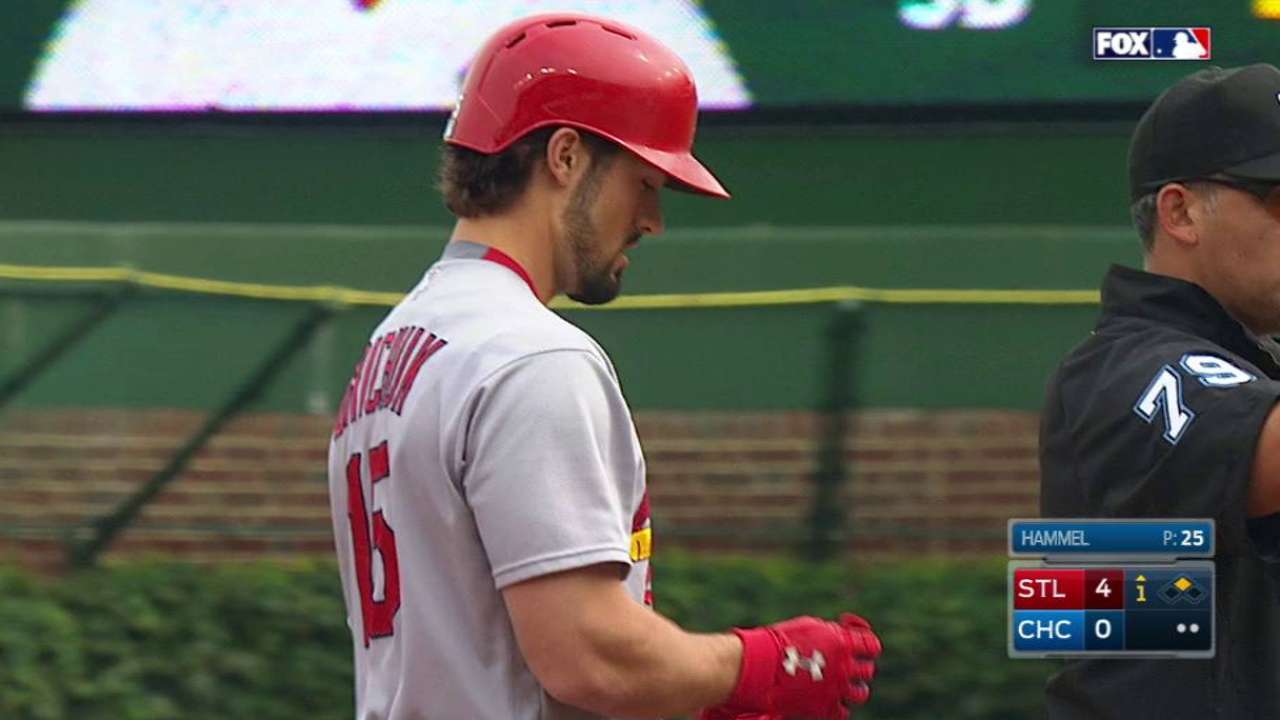 CHICAGO -- Still without a static batting order as the season nears its end, manager Mike Matheny produced his 140th different lineup on Saturday in an effort to jumpstart a recently unreliable offense. And that alignment struck a sweet spot.
After dropping seven of their past 12 games and totaling seven runs in those losses, the Cardinals broke out in a 10-4 victory over the Cubs to keep pace in the National League Wild Card race. Later on Saturday, San Francisco won and New York lost; the two are now tied for the top spots.
A team so-often carried by the long ball hit only one -- a Statcast-projected 450-foot solo shot by Stephen Piscotty -- on its way to scoring in double figures for the 17th time this season. Only the Red Sox and Rockies have done so more often.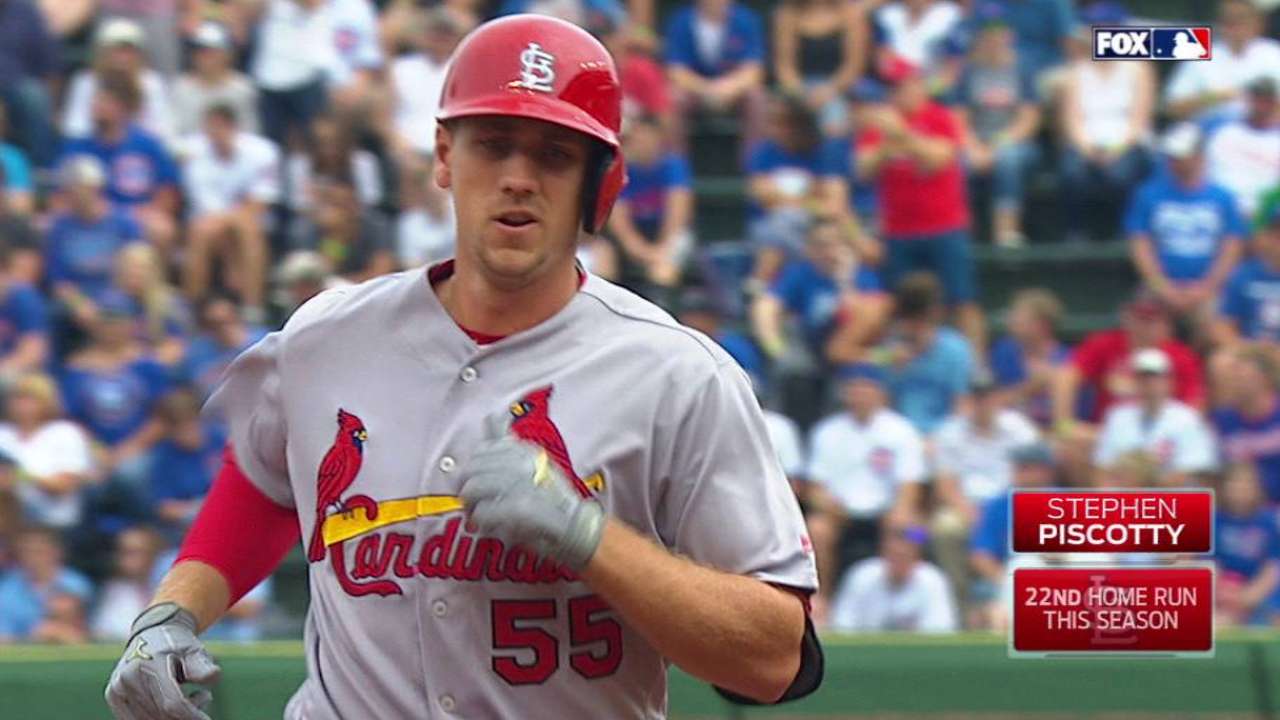 "It should be a relentless-style offense," Matheny said after his team's 43rd road win. "That's guys grinding through. It seems like we're sitting here in this scrum after a lot of games saying we just needed that one big hit. Yadi [Molina] gives us a start and Randal [Grichuk] comes through."
Molina's two-run double and Grichuk's two-run single capped a two-out, first-inning rally that set the tone for St. Louis. The Cardinals then added on with runs in four of the next eight innings to notch their first 10-run game at Wrigley Field since July 14, 2013.
Contributions were widely dispersed, too. Piscotty, Jhonny Peralta and Molina all registered three-hit games. Piscotty drove in two, while Molina matched his season high with a four-RBI game. Peralta, who reached base four times in total, scored three runs. Even Grichuk had driven in three runs before the third inning ended.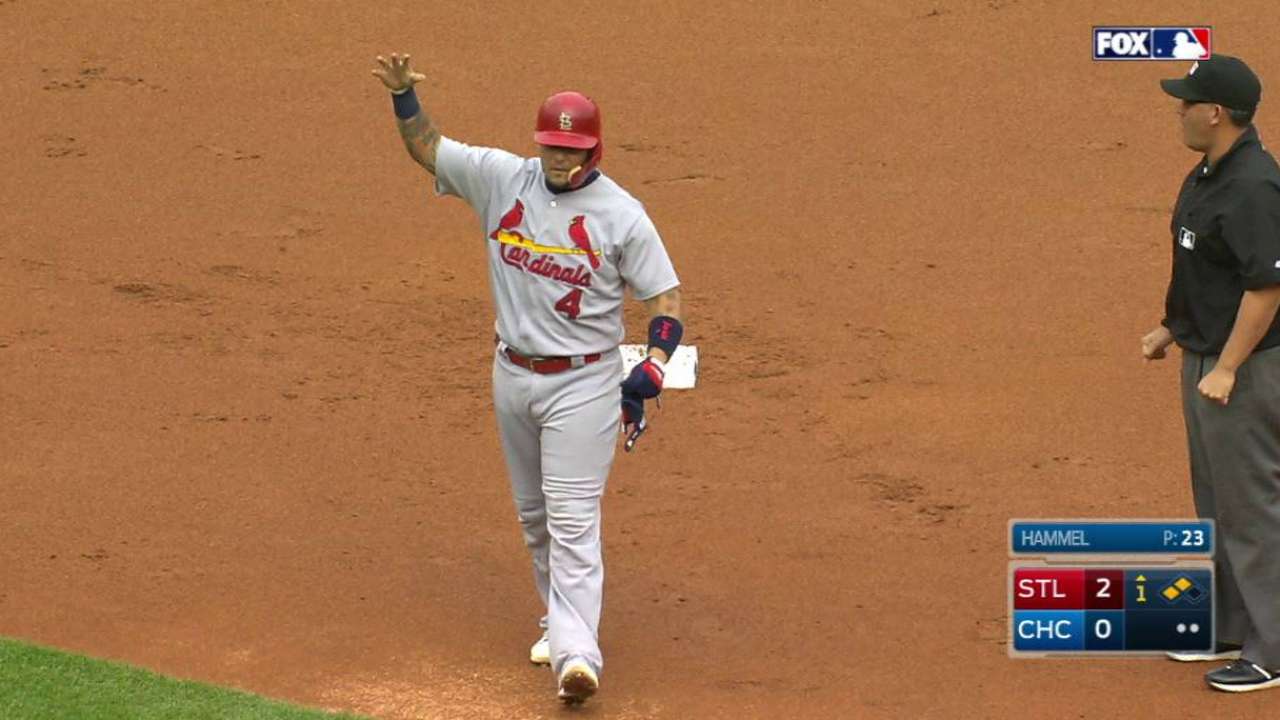 The Cardinals finished 6-for-11 with runners in scoring position, giving them twice as many hits as they had tallied in those spots over their previous seven losses.
"We kept putting it on them," Grichuk said. "Whenever they scored, we'd come right back at them and score. We never really gave them a chance to gain momentum and ran away with it."
Production out of the cleanup spot from Peralta was particularly encouraging, given his ragged offensive results since returning from thumb surgery. Sapped of strength and still searching for his timing, Peralta acknowledged having success through a shift in approach.
"I feel like the home run for me right now is not working," said Peralta, who is slugging .398 on the season. "But more importantly, I feel like I can make good contact. Like I said before, [the hand] is kind of weak. I was feeling pretty good today. And maybe the more and more that I play, I'll feel better."
He'll get that opportunity, too, as Matheny remains committed to playing Peralta down the stretch.
"I think he's still got another gear," Matheny said. "This is the kind of guy who, when he gets hot, he can carry us. Not to put that on one particular player, but we've seen that in the past. He's in a good place, just the confidence, the way he's taking pitches, it looks like he's trusting his hands."
Jenifer Langosch has covered the Cardinals for MLB.com since 2012, and previously covered the Pirates from 2007-11. Read her blog, follow her on Twitter, like her Facebook page and listen to her podcast. This story was not subject to the approval of Major League Baseball or its clubs.