Matheny enjoys managing at Coors Field
Cards skipper says Denver park tests staff's resolve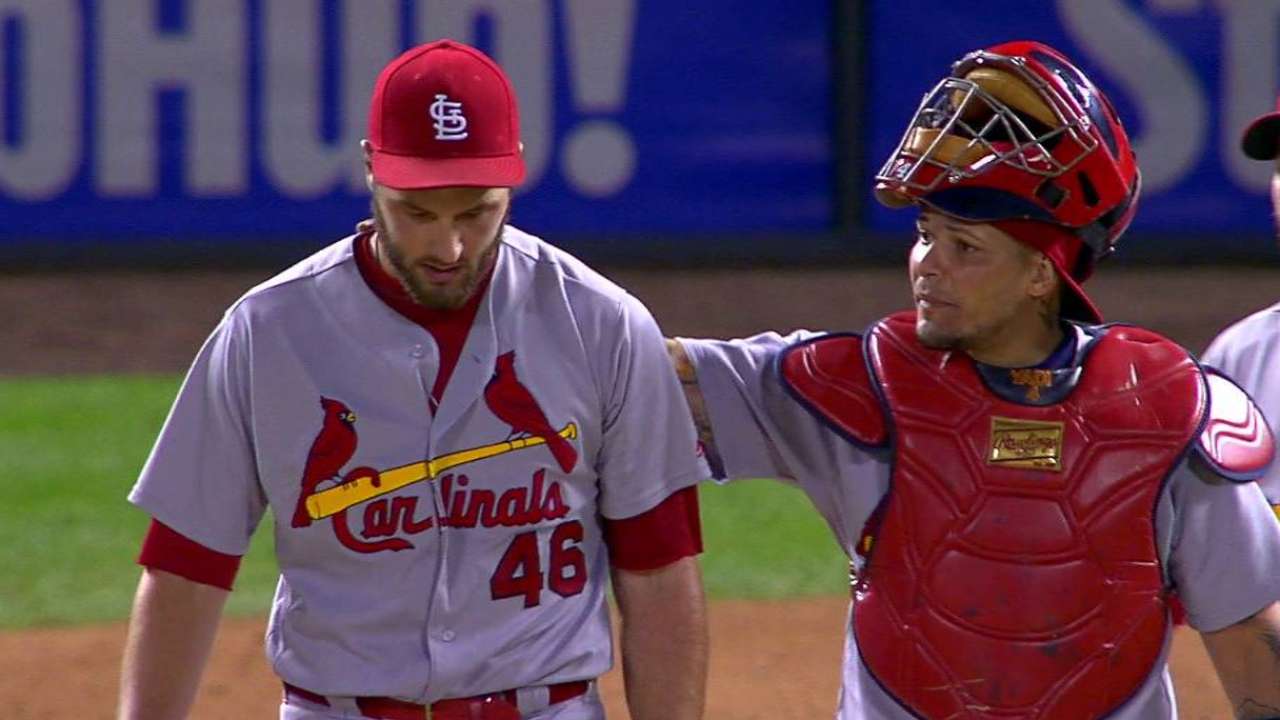 DENVER -- Cardinals manager Mike Matheny knows that managing at Coors Field can be a challenge. No stadium is more hitter-friendly, which can make managing a pitching staff interesting.
Games at Coors Field were averaging 12.3 runs per game this season entering Monday, which was more than a full run more than the average scoring at any other park. And in the 13 games Matheny has managed in Denver coming into this series, his team had given up an average of 5.6 runs per game.
The Cardinals' bullpen has been a mixed bag lately. St. Louis relievers had thrown 12 straight scoreless innings over four games before Kevin Siegrist gave up a run in Monday's 5-3 win, but before that, they gave up seven runs in 6 2/3 innings. Overall, their 3.54 bullpen ERA is sixth in the National League and 10th in baseball.
"I'd personally just like to watch our starters pitch while we're here," Matheny said. "That's all I'm thinking going into this thing. We've seen some guys come here and pitch really well. Obviously we've seen guys come here and struggle, but our best interest for our pitchers is to keep playing and pitching. Make good pitches, and whatever just happened, you have a shorter memory than you've ever had."
In the first game of the series, the bullpen limited the Rockies to one run over four innings after taking over for starter Carlos Martinez in the sixth.
"The guys in the 'pen came in and did a real nice job picking each other up," Matheny said. "Just enough to get it finished."
Matheny has the luxury of expanded rosters, which gives him 13 relievers to utilize. With four left-handers, Matheny is able to match up against hitters more often and also feel less pressure if he does have to pull a starter early.
"I love coming here," Matheny said. "It's always a test at the resolve of your club at times. We've had series here, too, where it was really normal and just banging it out and you didn't see elevated scores on one side or the other.
"Obviously there's a benefit in September to have a lot of arms. We have a bunch of them down there, multiple guys who can go multiple innings, which is an advantage. They do too. You just try to figure out how to maximize what we have."
With the players adjusting to the higher elevation in Denver, Matheny puts his trust in them to let him know how they are feeling. Pitching at a higher altitude not only affects how far the balls fly, but also how the players themselves feel.
"Guys might feel a little different tomorrow than they [normally] would," Matheny said. "Right now everybody typically would feel pretty good, but we'll see how they rebound tomorrow. These are those important times of the year, where I hope you've gained some credibility with just honesty on how guys feel. If they're real honest with us, days where it's not quite there, then we can stay away from them. We have options."
Ben Weinrib is a reporter for MLB.com based in Denver. This story was not subject to the approval of Major League Baseball or its clubs.