Grichuk, Wong play key roles in comeback win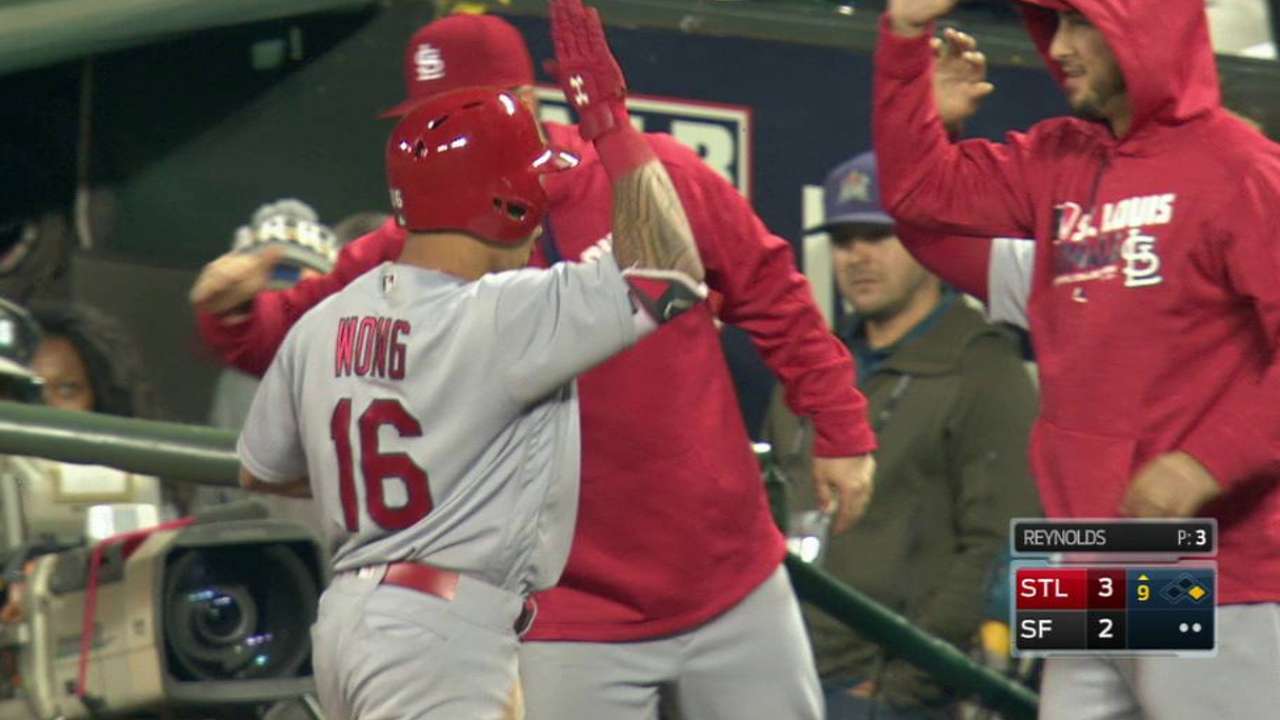 SAN FRANCISCO -- The game in New York had just gone final as the Cardinals readied for their last gasp against a San Francisco club that had led in all but one inning of this series. And perhaps just in time to save their postseason chances, the Cardinals found a needed gulp of air.
With a methodical comeback keyed by a pair of players who spent much of the season fumbling for defined roles, the Cardinals created a two-game swing in a National League Wild Card race that got even tighter with the night's developments. Following a win by the Mets with their own 3-2 victory over the Giants, the Cardinals pulled to within two games of both clubs as the final fortnight of the regular season is set to begin.
"We never call it quits," said Kolten Wong, who drove in the winning run. "The way things were going, it wasn't looking good. We just knew we had to battle and do whatever we could to get us in the situation that we did, and luckily we were able to come through."
Missed chances had dotted the Cardinals' offensive performance until the ninth, when they were able to capitalize against an unsteady Giants bullpen. The cast of contributors was vast. Jedd Gyorko sparked the rally with a single. Tommy Pham swiped a base. Yadier Molina drew a walk. And recent callup Jose Martinez hustled from first to third to position himself to score on a fly ball.
But it was consecutive at-bats by Randal Grichuk and Wong that sealed the team's sixth win when trailing after eight innings this season. Two players who opened the season as starters, endured demotions to the Minors and then returned with undefined roles have found a prominent place in this playoff push.
"There are a lot of guys that we would send down and it can be something that stunts their growth," manager Mike Matheny said. "It can be something where they shut down a little bit and don't respond. But both went down with the right attitude went down with a plan and came back better."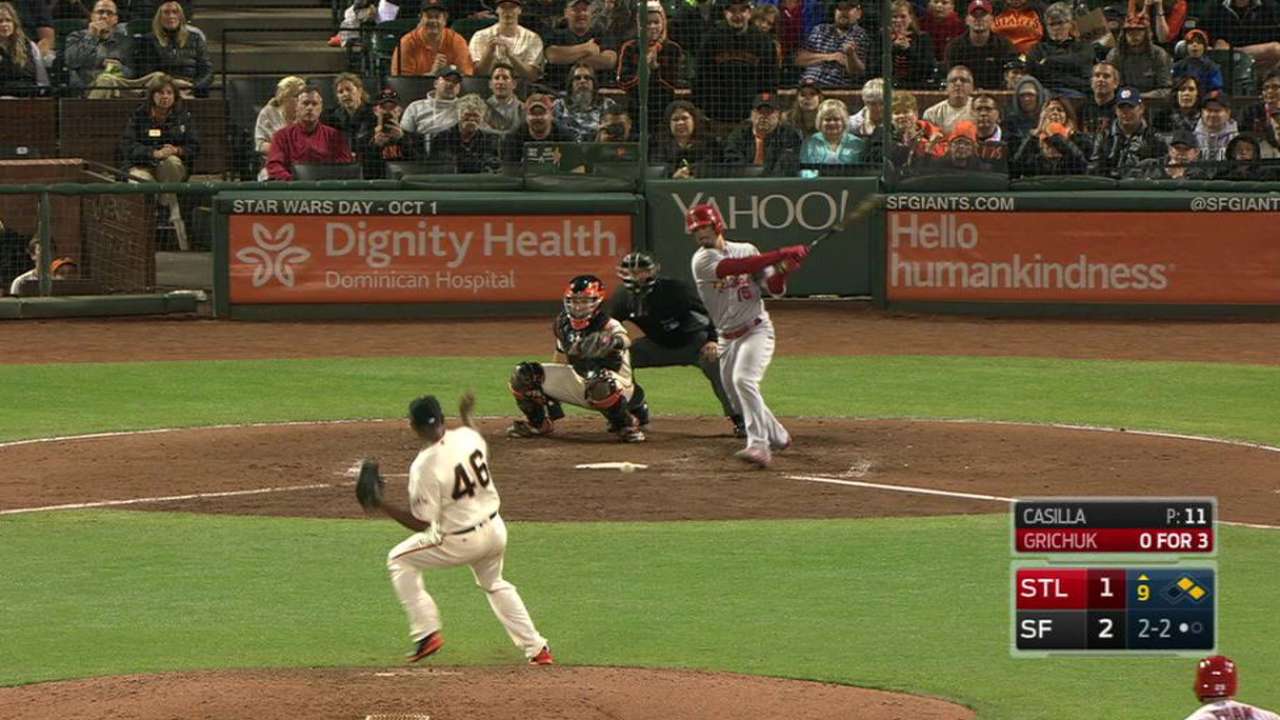 Grichuk came up against Santiago Casilla with one out and the potential tying run on second. Having grounded into two double plays already, he stayed short with his swing and lined a 2-2 sinker to center to tie the game.
"Having a good month of August or September and help contribute to a big win, it helps a little bit to help us put those first few months behind us," Grichuk said. "It turns a year that was absolutely terrible into one that's not completely terrible."
It's a sentiment that he and Wong, who followed with a sacrifice fly to score Martinez, have discussed repeatedly. And they've both enjoyed some late-season momentum as a result.
Since returning from the Minors in mid-August, Grichuk has hit safely in 26 of 34 games. Wong had a surge of offensive production early this month and has dazzled defensively since earning playing time back.
"We're constantly talking about how to be mentally strong, how to understand that bad seasons are going to happen," Wong said. "If we can go out there and help the team win now, that's going to make up for the previous season that we had. You've got to roll with the punches and keep your head up and keep pushing."
Jenifer Langosch has covered the Cardinals for MLB.com since 2012, and previously covered the Pirates from 2007-11. Read her blog, follow her on Twitter, like her Facebook page and listen to her podcast. This story was not subject to the approval of Major League Baseball or its clubs.