Navy grad Harris knocking on big league door
Cards righty attempting to become second graduate of Naval Academy to reach Majors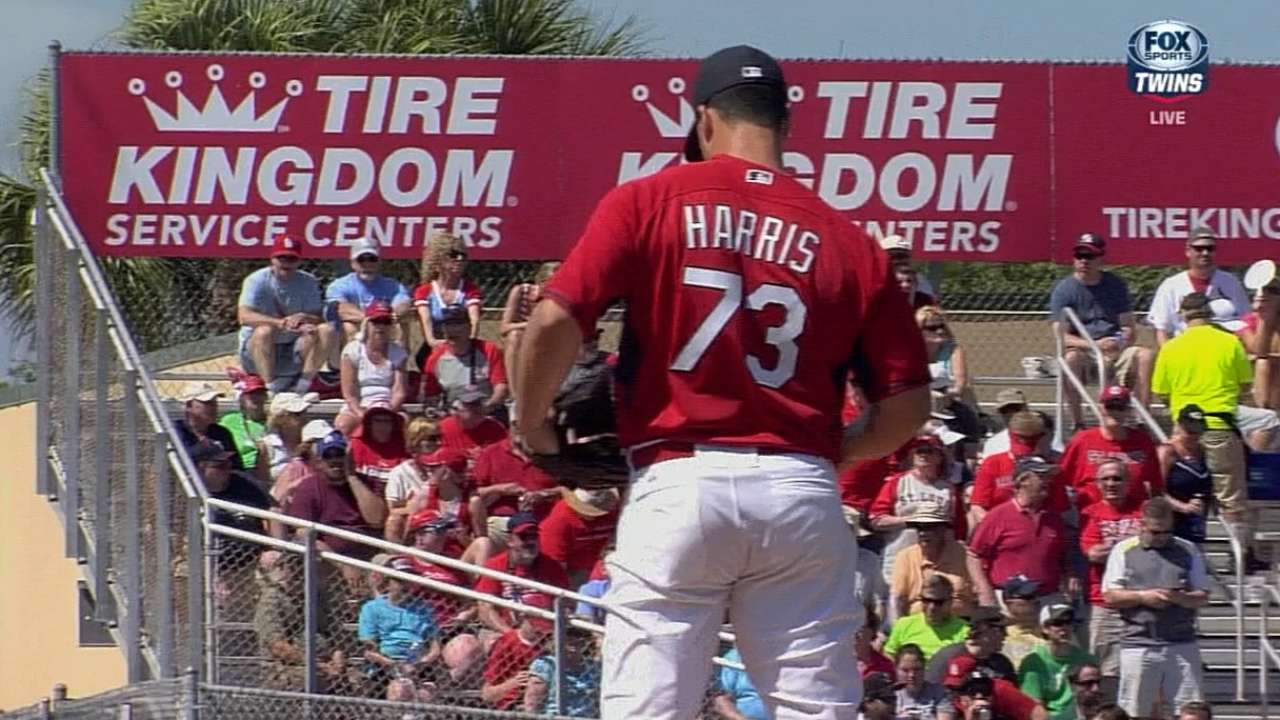 JUPITER, Fla. -- As he sailed aboard the USS Ponce in the Persian Gulf, conducted drug stings in South America, and then served on diplomatic assignment in Russia, Mitch Harris refused to let the uncertainty interrupt the dream.
His required service in the United States Navy had already put that dream on hold, leaving Harris a professional baseball player without a mound from which to throw. The Cardinals had drafted and signed the 6-foot-4 right-hander out of the U.S. Naval Academy in 2008, but they were unable to get him into their system.
That's because Harris had an obligation he needed to meet.
With his enrollment at the Naval Academy had come a service commitment of five years. Multiple times, Harris petitioned to have his service time delayed in order to pursue a Major League career. Other professional athletes had appealed successfully under similar circumstances, but Harris was repeatedly denied such a waiver.
So as he followed through with his service and watched what should have been the prime years of his baseball career go by, Harris could only hold on to the hope that he hadn't missed his window. Which is why now, nearly seven years after the Cardinals used a 13th-round pick on a college senior they knew might never throw a pitch for the organization, Harris occasionally allows himself to think about what could soon be.
Following four years, eight months and eight days as an active officer, and another two trying to rediscover himself in the Minors, Lieutenant Mitchell Andrew Harris finds himself on the cusp of becoming the first graduate of the Naval Academy in 94 years -- and only the second ever -- to appear in a Major League Baseball game.
"That's hard to put in words," Harris said of such possibility. "The excitement. The pride of knowing that we did it the right way. The hard work. The time. The pain. The stress of wondering if it was ever going to happen. And then the fulfillment of knowing I reached my dream. It's hard to put into words exactly how I'm going to feel."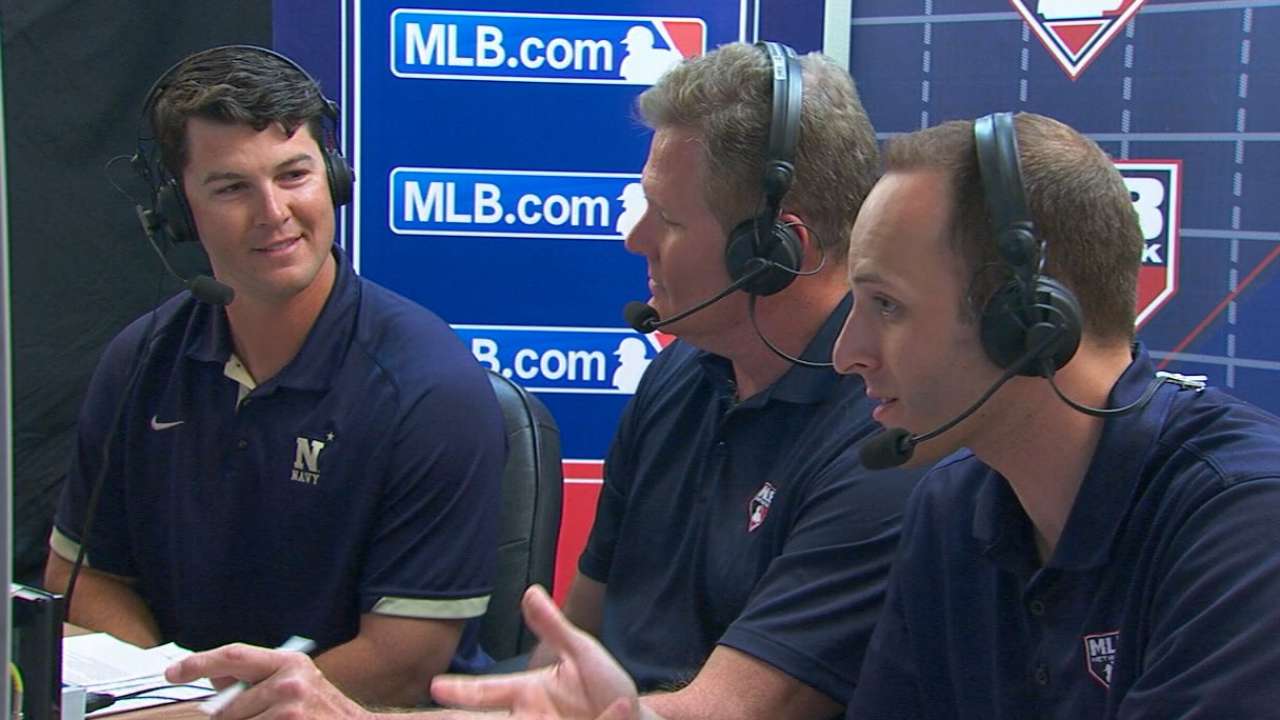 Finding Footing
The restart to Harris' professional baseball career began on Feb. 1, 2013, the day after the Navy officially released him from active duty. It was a few months before the five-year mark and came as a surprise to Harris, who was simply hoping to resume playing baseball that summer.
The Cardinals welcomed him back to the organization, with neither the club nor the pitcher knowing exactly what to expect. Though Harris had stayed in good physical shape while serving -- often, literally, on sea -- he hadn't been able to stay in prime baseball condition. Harris estimated that the first pitch he threw in front of a Cardinals coach that February registered 80 mph on the radar gun.
He had lost 12-14 mph on that pitch since his senior season.
"I was terrified," Harris said. "I was thinking, 'I wonder if everyone else is thinking what I'm thinking, which is, 'This guy doesn't belong here. Why is he here?' I knew it was in there. I knew my body felt great. It was, 'Can I stretch this out to get it back to where I know it can be and progress more than where I was?' I knew I could get stronger. But yeah, I was really worried."
Slowly, however, the velocity began to tick north.
The Cardinals estimated that Harris' fastball velocity was around 86-87 mph at the time they invited him to dress for the Cardinals' Grapefruit League game several weeks later on March 24. Manager Mike Matheny made it a point of pitching Harris against the Mets that afternoon, and Harris' service to the country was acknowledged as he entered the game to "Anchors Aweigh." He was introduced to the crowd as a Lieutenant.
"[We wanted] just to give him a chance to be here not knowing if that might be his only day in the sun," Matheny recalled. "Little did we know that he was going to improve to the level that he has and be one of the best in our organization."
Harris remembers exactly how things went that day -- he allowed four of the five batters he faced to reach and served up two home runs.
"It was kind of an eye-opener," Harris said. "One, I knew I wasn't ready. I didn't feel ready. But it was a motivation thing for me. I knew I could pitch there, but I knew I wasn't there yet. For me, that was a big influence over the next year and a half, to remind myself, 'However you feel or wherever you think you might be, you've got a lot of work to do.'"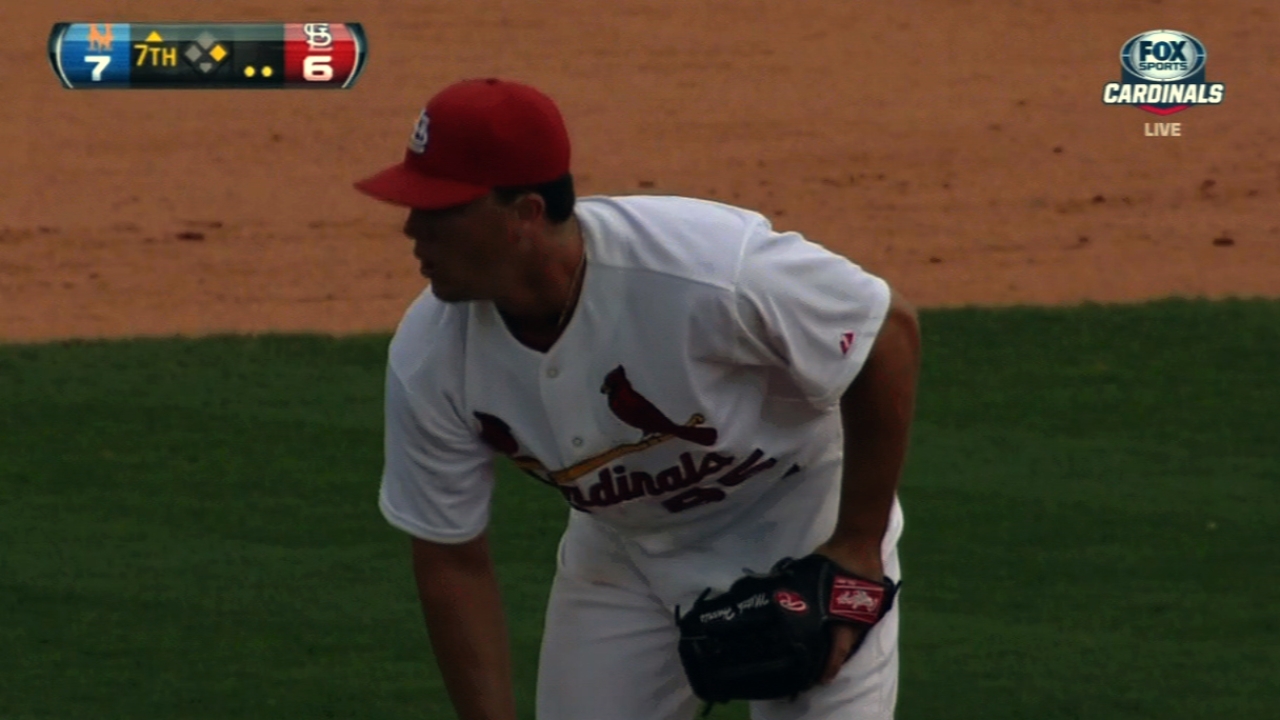 Climbing the Ranks
Harris made only 20 official appearances in that 2013 season, with much of his time otherwise spent in extended spring camp. He actually did quite well, allowing three earned runs, 22 hits and 15 walks with 29 strikeouts over 33 1/3 innings with short-season Class A State College. But he didn't always feel right.
The questions nagged at him: How hard am I throwing? Is it hard enough to fool hitters? Can I get better movement on my pitches? Will my arm respond to the workload? And still: Do I really belong?
He was relearning skills that had once been so natural and playing catchup at an age where players are no longer considered prospects.
The turning point came late last May, after Harris graduated from Class A Advanced Palm Beach to Double-A Springfield. Harris estimated that it was a week into his new Double-A assignment that he threw a bullpen session in front of pitching coach Randy Niemann.
On the mound that afternoon, something clicked.
"That was the moment I really felt like, 'OK, now I can focus on pitching, not feeling good,'" Harris said. "I thought, 'I can actually worry about getting guys out and doing what I need to do on the mound as opposed to me just seeing if I can feel good and get the ball over the plate.'"
Some of those adjustments were mechanical. More were mental. Harris went on to pitch 33 games for Springfield and posted a 3.92 ERA, 1.168 WHIP and 34 strikeouts in 43 2/3 innings. He then earned an invite to the prospect-heavy Arizona Fall League, where he made 11 more appearances, struck out 12, allowed 13 hits and gave up six earned runs.
Though he was five-to-six years older than most players in the league, Harris left feeling like he had finally caught up.
"I hadn't felt complete," Harris said. "I hadn't really felt like I was at the place I needed to be. I wanted to see, 'Where am I? How close am I to being back to where I want to be?' I learned a lot of things. I learned that I'm getting back to where I want to be. I learned that I can compete at that level."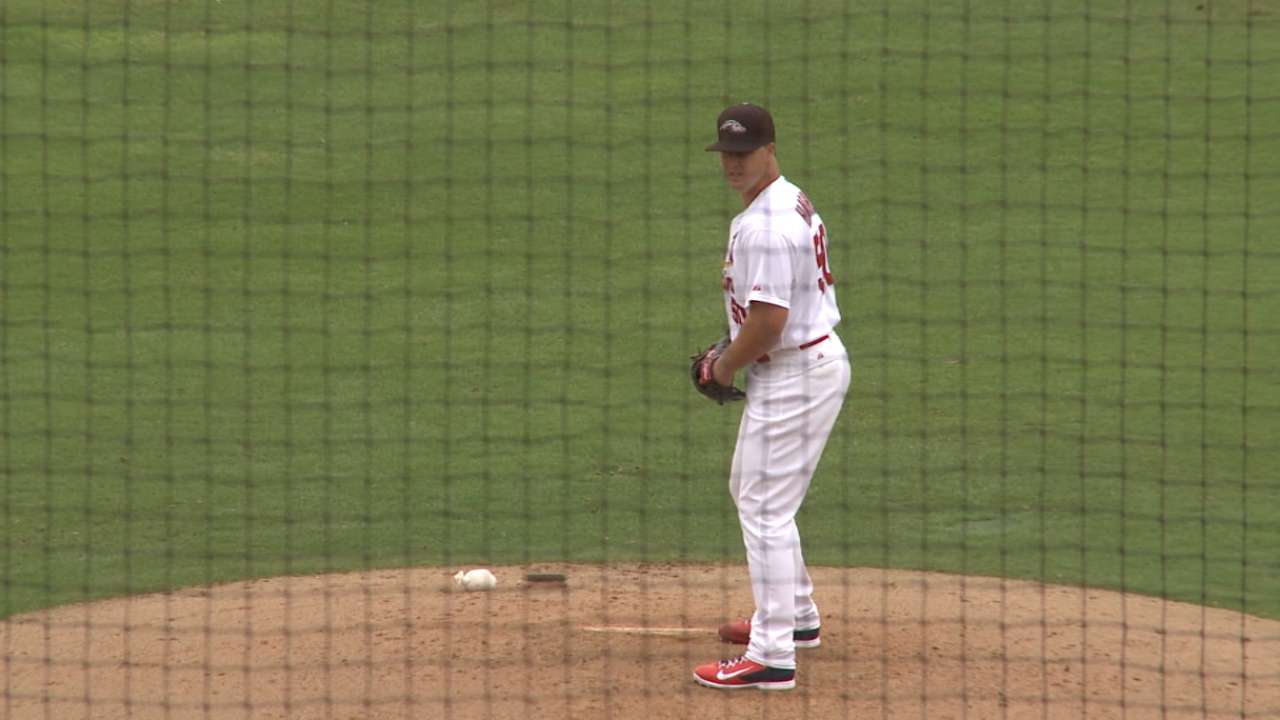 Zeroing In
These days, Harris doesn't take the mound to a military tune, nor is he introduced with his military title. He's just Mitch Harris, No. 73, one of 17 pitchers left in Cardinals camp fighting for a big league job.
It's unlikely that Harris will break camp with the Major League club given the plethora of pitching options the Cardinals have. But he'll almost certainly start in Triple-A, putting him one level away from that dream that, not all that long ago, was literally a half-a-world away.
He's allowed just one hit in five Grapefruit League appearances and is showcasing a cutter and split-finger fastball these days, along with a developing breaking ball. Though the radar gun at Roger Dean Stadium has been unreliable, Harris guesses that his fastball is back in the low-90s -- maybe a tick or two higher even, at times.
"It says a lot about his determination and his work, but also I think it says a lot about just seeing the potential that was there," Matheny said. "We've seen it. He's learning how to pitch. He's using his secondary pitches very well. And he has made himself a legitimate candidate to help us out at some time."
In other words, Harris is standing out again -- just as he did two years ago, but so much more self-assured this time. And as he looks back on the journey, Harris insists he wouldn't have changed a thing.
"Absolutely not," Harris said. "I think it makes me who I am. No one in this complex, or probably any complex, can say they did what I did. I wouldn't take that back for anything."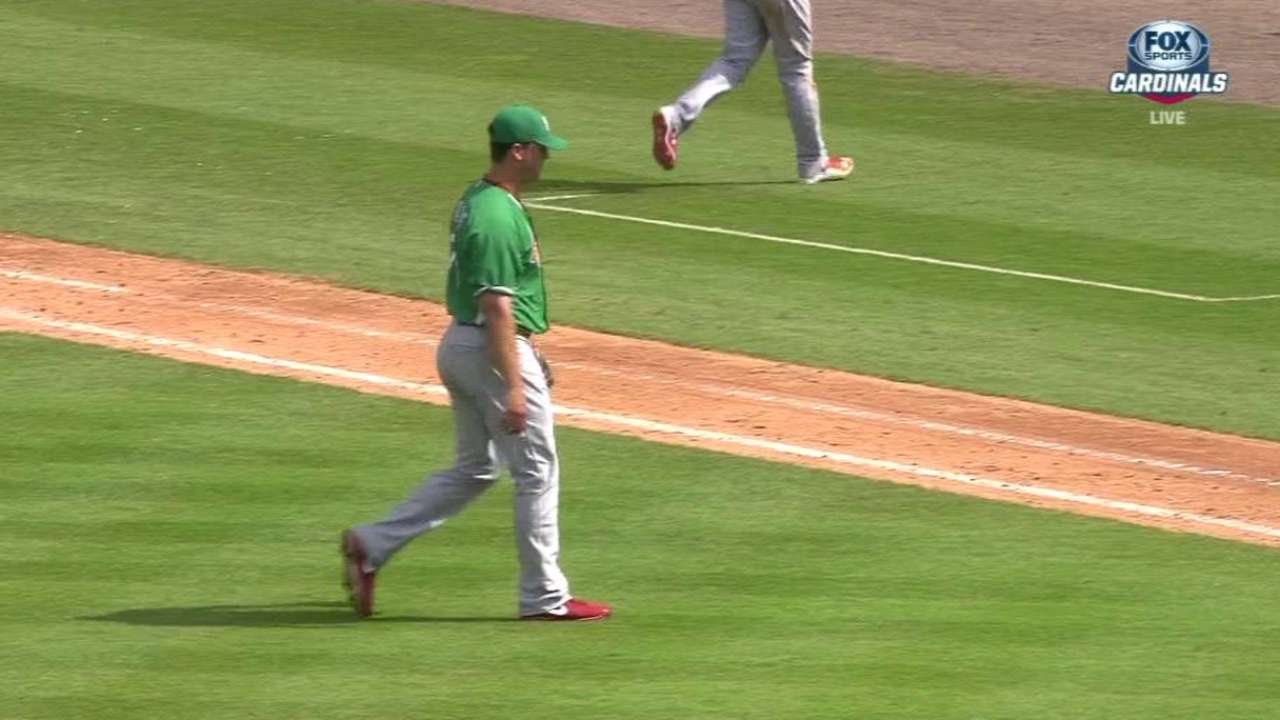 Jenifer Langosch is a reporter for MLB.com. Read her blog, By Gosh, It's Langosch, follow her on Twitter @LangoschMLB and like her Facebook page Jenifer Langosch for Cardinals.com. This story was not subject to the approval of Major League Baseball or its clubs.